Get ready with the experience and tips for the most beautiful Triathlon in Mexico.
The Xel-Há Triathlon is approaching, a great challenge for triathletes, whether they participate in the Olympic Triathlon modality on November 19 or in the Sprint, Children, and Women Beginners categories on November 20.
We know how important it is to prepare well for an event like this, so we talked to Crisanto Grajales, a Mexican Olympic triathlete with more than 15 years of experience, so that he can share his best advice.
Before starting, if you want to know more about this event, you should read this post: Did you know that a Green Triathlon takes place in Xel-Há? Here we explain where is Xel-Há, what categories it has, the dates, how it came about, and why it is known as the Green Triathlon.
Let's go to the tips that Crisanto Grajales shared with us:

First, you must remember that the Xel-Há Triathlon is a very calm, noble, and guided event. On the one hand, the natural landscapes foster a peaceful environment for family and novices, but they also represent an exciting challenge for the more experienced.

For these types of natural settings, the ideal is to wear the following triathlon equipment: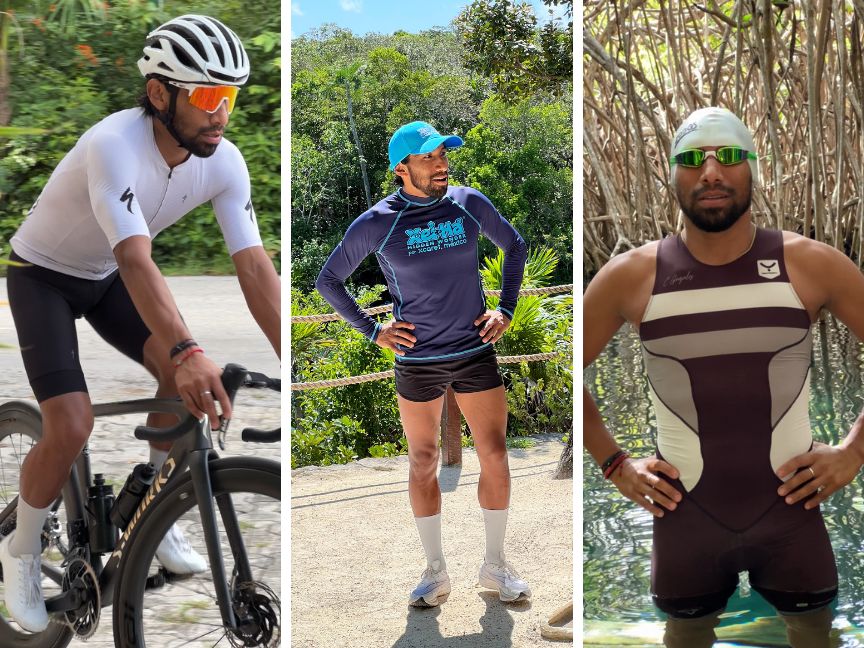 Cycling: This route is through the jungle, so it is essential to wear glasses, a helmet, tennis shoes, and amphorae to hydrate constantly.
Race: Due to the terrain's characteristics, Crisanto recommends wearing wide tennis shoes from the heel to the toe to gain more stability.
Swimming: You will swim in a vast natural cove that connects with the sea; for this, the ideal is to wear a cap, goggles, and a tri-suit. Starting very early with this sport, Crisanto suggests avoiding using biodegradable sunscreen during this discipline and saving it only for the bicycle competition; this way, we pollute less.

Did you know that swimming is Crisanto Grajales' favorite discipline? (only in Xel-Há Triathlon)
Even though his best is racing in terms of results, the Olympic triathlete told us that swimming is his favorite, although he enjoys doing the three disciplines in the Xel-Há Triathlon. The clarity of the water in the cove never ceases to amaze him, allowing him to appreciate this natural wonder's fantastic underwater scenery and biodiversity.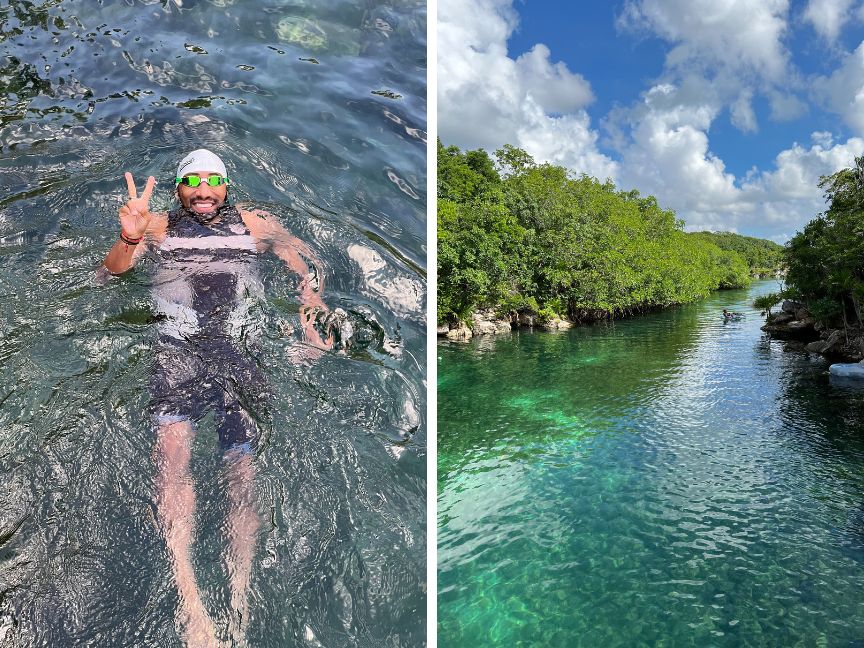 What to eat before a triathlon? Crisanto Grajales shares these sports nutrition tips with us.
If you are a professional athlete or fitness enthusiast, you probably already know that nutrition is key to better performance. These four tips that Crisanto shared with us will help you improve your results and better enjoy this event.
1.- A few days before the competition, increase the number of carbohydrates in each meal; It will be the fuel to perform better in the Triathlon.
2.- Improving hydration to counteract fluid loss during competition is vital. Tip: Put electrolytes in your amphorae.
3.- During the Triathlon, remember to consume sports gummies and gels that work to replenish energy and reach the finish line with a good rhythm.
4.- At the end of the event, it is best to enjoy the food and drinks in the different restaurants of Xel-Há. I usually eat a good plate of fruit, protein (meat or chicken), and a salad to recover.
Remember that Xel-Há is an all-inclusive park with buffet restaurants, delicious breakfasts, and meals for the whole family. You can find Mexican food options, international dishes, vegetarian and vegan food, and much more in them.
See all the restaurants here: Restaurants and bars in Xel-Há.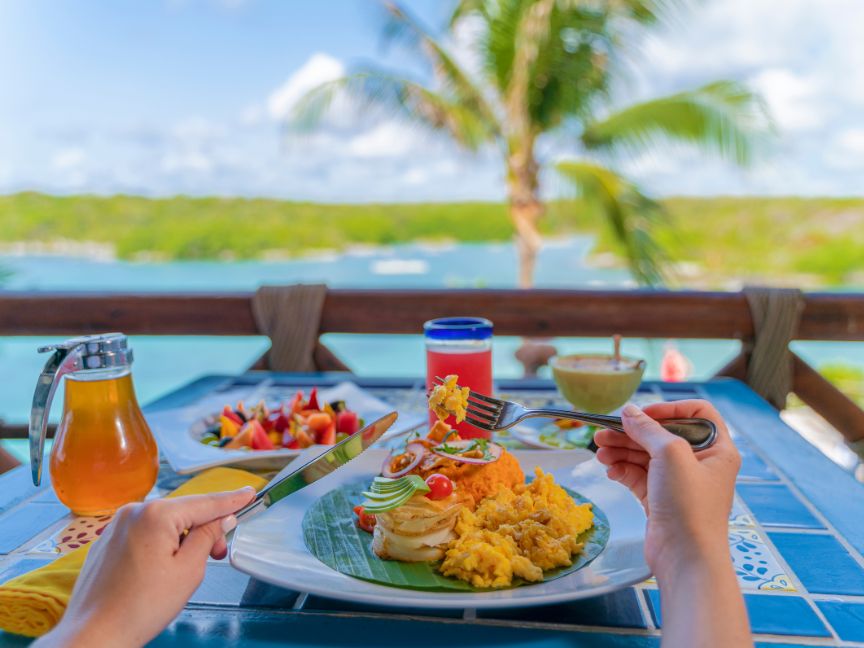 And finally, the last piece of advice is to enjoy the fun and nature of the Mexican Caribbean!
For many triathletes, the Xel-Há Triathlon is the "closing of the season,' so to speak, so vacation or time off is more than welcome. After giving it, you're all in the competition; it's time to take advantage of all that this beautiful destination has to offer.
If you decide to stay in Xel-Há after the Triathlon, these are the three things that Crisanto recommends doing:
1.- Take a relaxing siesta in the hammocks under the shade of palm trees.
2.- Tour the cove again, but now calmly, to see all the underwater wonders while snorkeling.
3.- Experience some adventure activities such as Sea Trek or Power Xnorkel.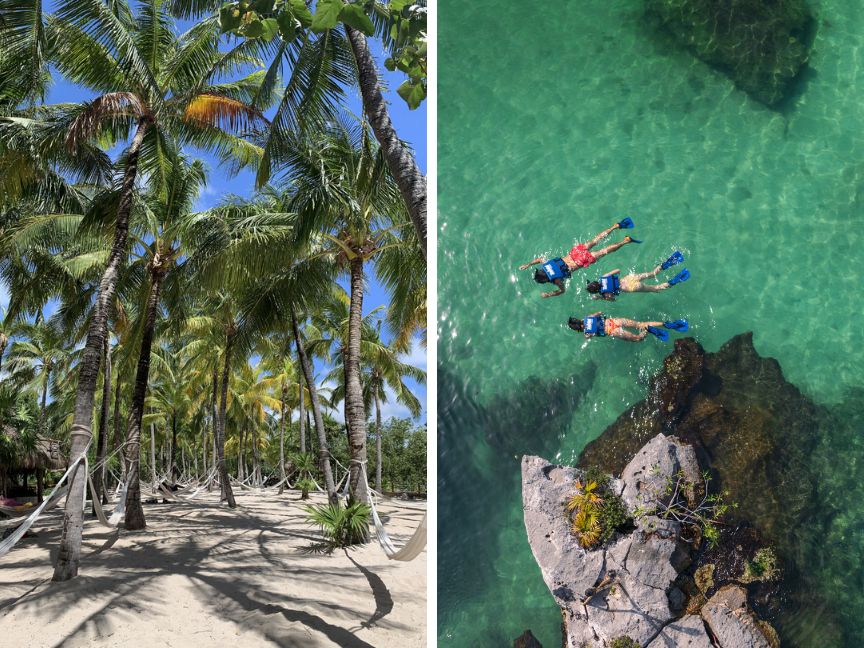 What else would you like to know to prepare for a Xel-Há Triathlon? Leave a comment.