20 Tips That Will Help You To Plan An Unforgettable
Mexican Party in Cancun
Right now I'm thinking about saying "salud" and drinking tequila! But first, it is time to put in the table some tips and recommendations so we can enjoy to the best this funny and authentic Mexican night.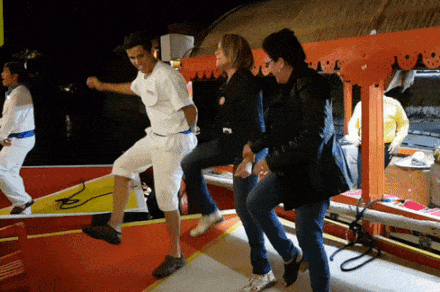 In this list, you will find important information that will help you to plan your night at Xoximilco Cancun. From the very beginning of the tour, to what you will find at your table, to the activities that you will enjoy at the party barges. Read with attention but hurry up because mariachis are waiting for us to get this party started:
How do I get there? We are located a few minutes from the Cancun airport on the road to Playa del Carmen. Here's a map so you can locate the main points of your next vacation.

If you see this gate, it means that you had arrived.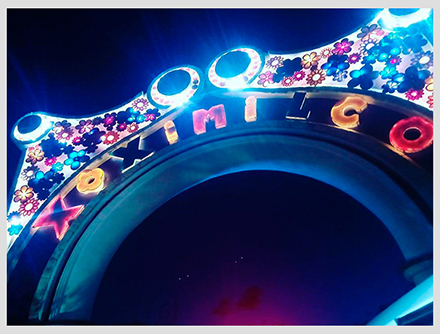 You can book your admission with round-trip transportation. So you don't have to worry about driving. All you have to do is to be on time at your lobby or meeting point and wait for our bus.
If you already rented a car or you prefer to arrive on your own it is valid too. As soon as you arrive at our gate we lead you to the parking lot.  
At what time should we arrive? We are open at 7:15Pm from September to March and at 7:45Pm from April to August. My humble suggestion is to book your visit with anticipation at the official site and save the date.
What can I do with the kids? This Mexican party is for everybody. All the family is invited no matter your age. Indeed the little ones can even have a kids menu. Just be aware that the tour in trajinera has a duration of 3 hours.
As soon as you arrive we will be waiting for you at a Mexican kermesse. At this point, we give you the information about the trajinera you will be partying and where to board.

Before all the dancing begins, take your time to enjoy the fair games and the Mexican snacks. You will also find fresh flavored water, and why not? margaritas with tequila to warm up.
Visit our restrooms to get some bug repellent, remember that we are in the middle of the jungle. Also, empty your tanks before boarding your trajinera.
A bell announces the boarding time. Pay attention to hear the name of your trajinera walk to the barges dock.

Wait! What should I wear for this fiesta? Dress code for Xoximilco Cancun.
Trajineras or party barges have a capacity for 20 persons. And here your host and your captain are ready for an introduction and to sail away. Did I mention that they are experts at partying?
You will find an open bar at your trajinera. It includes water, sodas, beer, tequila, ron, vodka, and sangrita. To start with the right foot ask your host to prepare special shots and drinks.
The first part of the tour is to get to know everyone at the trajinera and to try the Mexican appetizers. Spoiler alert: this includes fried beans, guacamole, and crickets.
You will learn about Mexican food and it's ingredients. At the sampling dinner, you will try 7 different dishes from different parts of the country.
We also offer a veggie menu. If you are allergic to some food, don't worry, our hosts will ask you at the beginning of the night. So you can enjoy all the food you try.
There's a halftime buy ain't is for resting. It's just a pit stop to visit the restrooms, visit the gift shop and keep dancing.
Can you follow my dance moves?

Dessert time! Typical sweets from all over Mexico accompanied by a delicious coffee.
Dancing all night. Watch every music ensemble that will make us move our hips.
Eventually, we are back to the barges dock. Make a last stop at the souvenir shop and to get your photo package.
In total the party lasts 4 hours since we arrived at the Mexican kermesse and the tour in trajinera lasts approximately 3 hours.
At the end of the night, the hosts will be waiting for you at the bus to take you back to your resort. At this point, you may be tired and with sore feet but what an incredible fiesta!
Extra tip: every Tuesday and Friday are 90's theme nights at Xoximilco Retro. Also, you may know that Thursday is tribute nights to Mexican songwriter Juan Gabriel.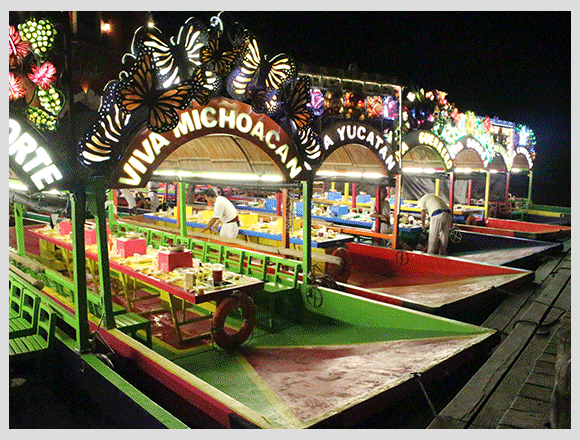 Dear compadres and comadres, these are just some tips to enjoy this Mexican party. In the end, our most important tip is to dance all night, laugh with your hosts, make new friends, try every food and get the most out of the Mexican folklore.
Over here you can book your tickets for a Mexican party.