The sky was the limit; now it's the goal!
After two years of absence, the Xel-Há Triathlon was back with moments full of emotions and the participation of 1,800 triathletes who gave their best during the two days of the National Championship.
Among the categories, we can find:
Elite
Children's
Olympic
Sprint
Novice
Read all about this event here
Fabiola Corona, Xel-Há's friend for 12 years, says goodbye to Triathlons.
Undoubtedly, one of the most emotional moments of this edition was Fabiola Corona's farewell and retirement from Triathlons. A Triathlete that we admire for her long career. She has attended for 12 years in every Xel-Há Triathlon, crowning herself as our special guest.
She said goodbye on Saturday, November 19, by competing in her last race with her husband, Aaron Sanchez. Xel-Ha gave her a plant inside the park as a token of affection for many years of competing.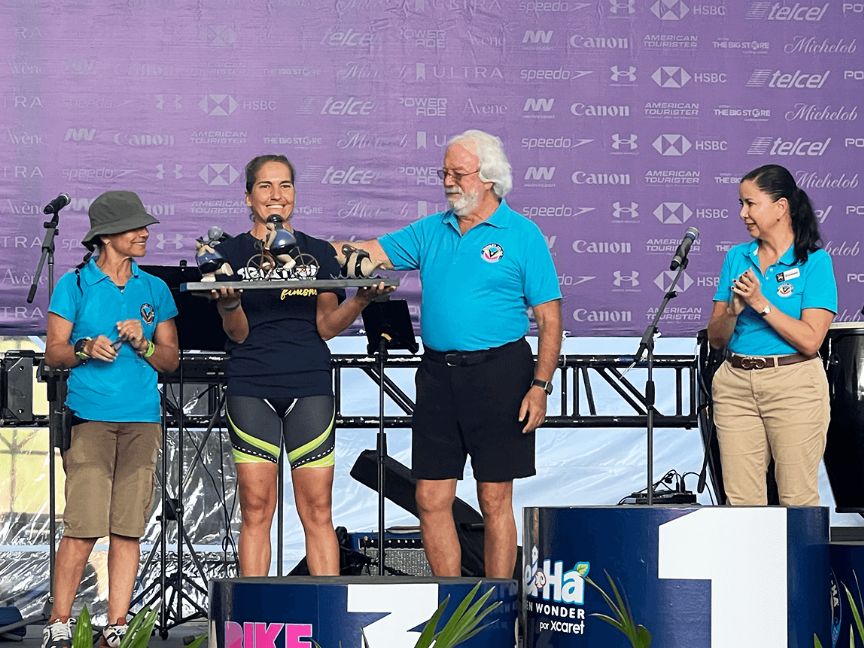 Fabiola was the first woman to represent Mexico in Triathlon at the Olympic Games, Beijing 2008, and we wish her much success in her next stage as an athlete!
A Green and Sustainable Triathlon
Like every year, the Xel-Ha Triathlon includes sustainable actions that are part of Grupo Xcaret's vision. The objective is to raise and spread awareness in the community about the environment. For this reason, a stand could be found with our Green Officers, who shared information about each task during the event.
Some of the most outstanding actions are:
Use of chemical-free sunscreens.
Separation of inorganic waste for recycling.
Collection of bicycle inner tubes to give them a second use.
The use of organic waste to produce compost used as fertilizer in green areas.
Using biodegradable materials and supplies, such as chemical-free cleaning products and recyclable materials.
Reduction in the use of printed matter.
Collection of swimming caps for donation to schools.
Donation of the entire registration fee for the Xel-Há Triathlon to Flora, Fauna, and Culture of Mexico, A.C.
Integration of the community (volunteers) in organizing the event and promoting good environmental practices and sports among the youth.
Rehabilitation of roads by cleaning more than 20 tons of waste.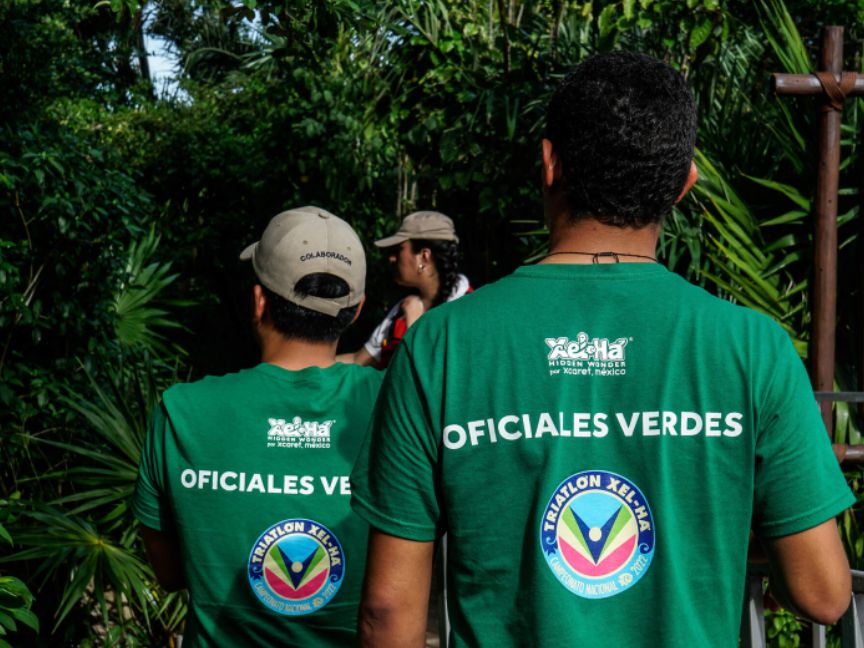 The Xel-Há Triathlon supported the Red Cross of Quintana Roo with a benefit dinner as well as Flora, Fauna, and Culture of Mexico by donating a large part of the registration fees.
A very emotional moment during the awards ceremony!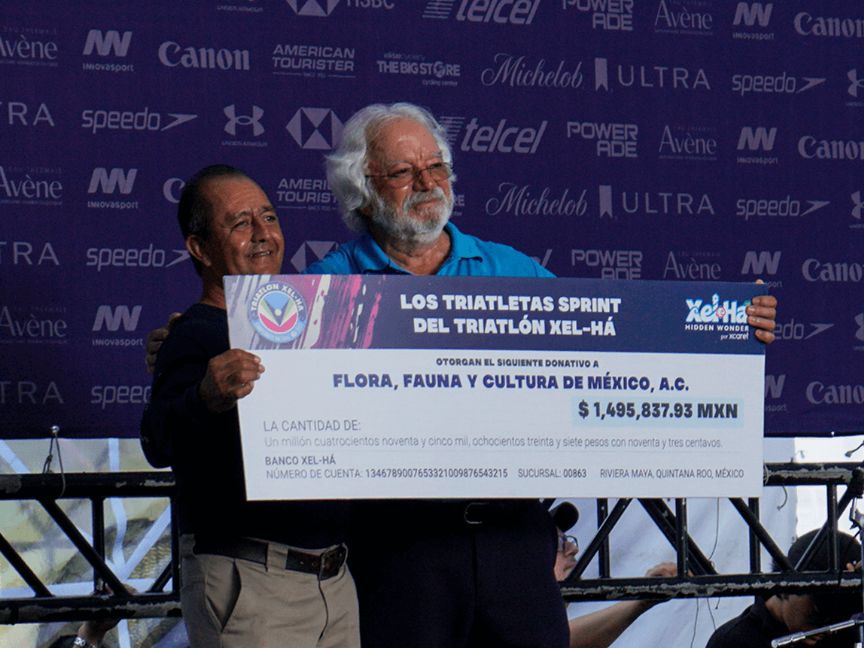 The first waves!
Shortly before 6:45 am and with the arrival of dawn, the first waves left our floating bridge.
A moment full of excitement and adventure for all the triathletes who were ready to inaugurate the 12th edition of the Xel-Ha Triathlon.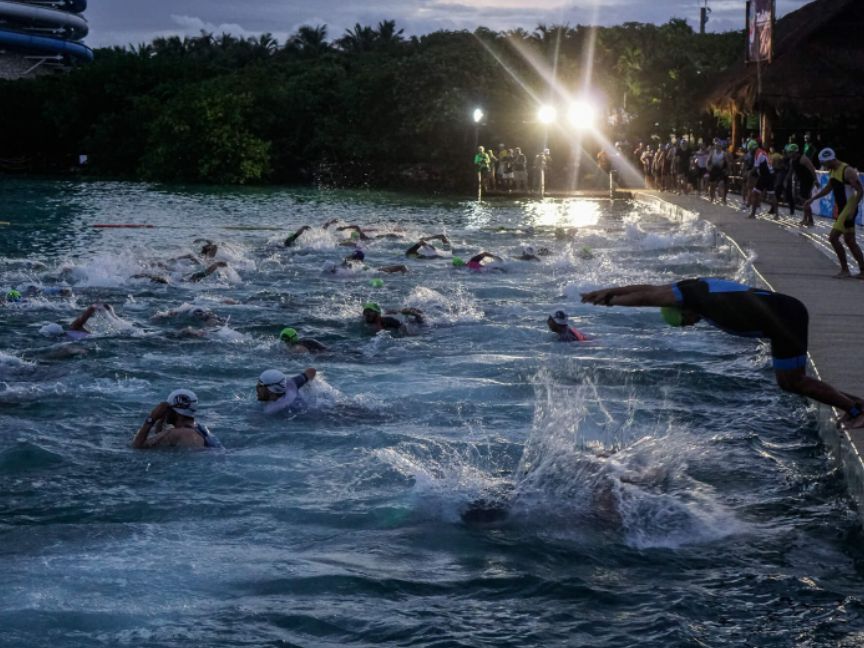 The view from the cove was sensational, and it will undoubtedly be a postcard to remember.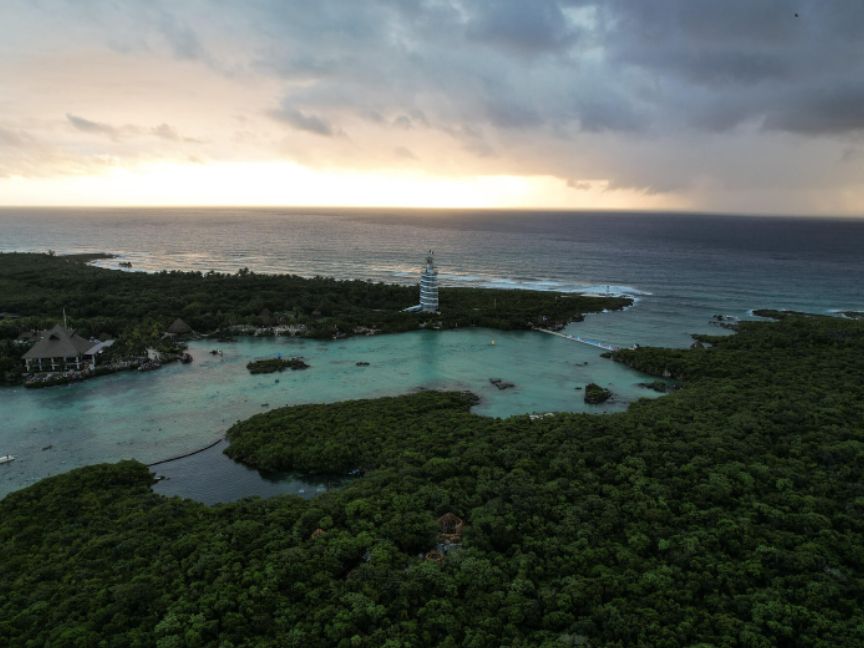 The first place in the National Championship Elite Category
Rodrigo Gonzalez @rodrigogogonzalez from Guanajuato, the best time of 1 hour and 50 minutes, crossed the finish line to become the winner of the 2022 National Championship.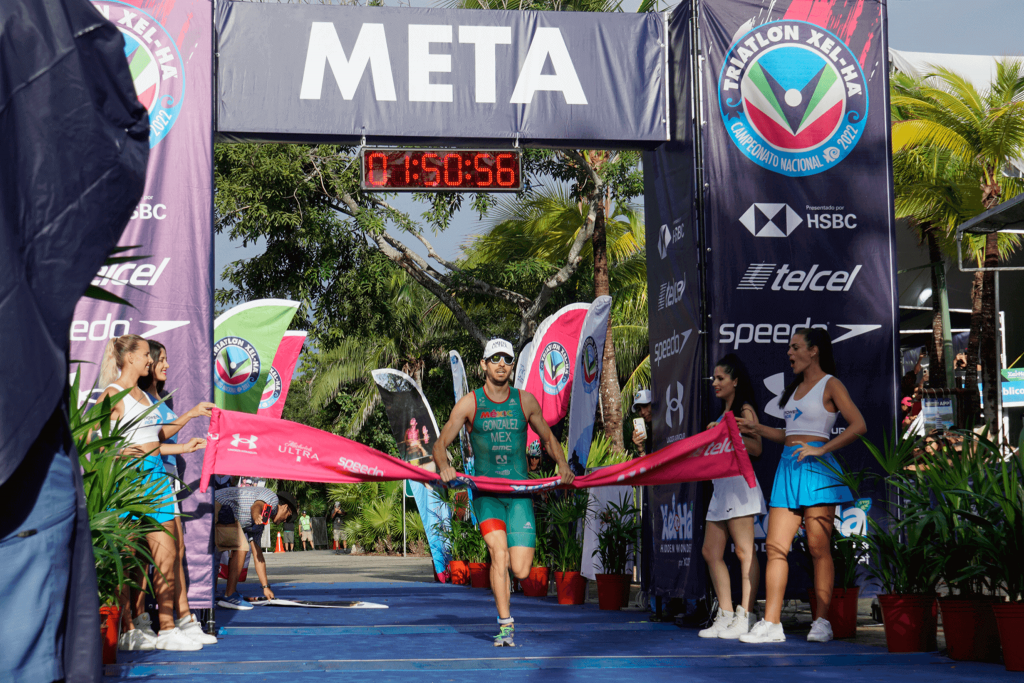 Second place: Dylan Acampa Carranza @dylancampa 01:51:32
Third place: Jesús Espíritu @jesusespiritur 01:53:30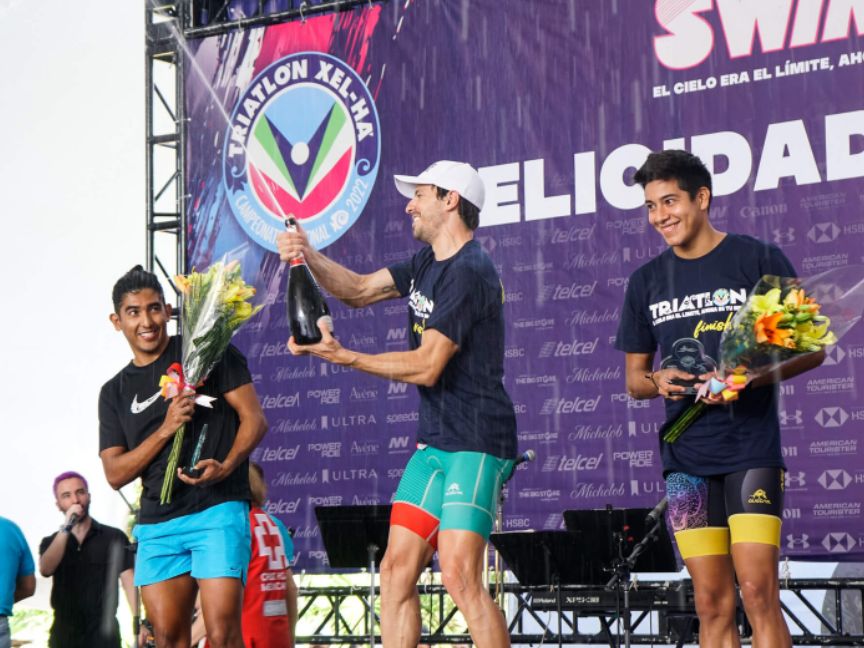 Elite women's category
In the women's category, the winner was Sara Roel @roel.sara from León Guanajuato, a time of 2 hours and 9 minutes.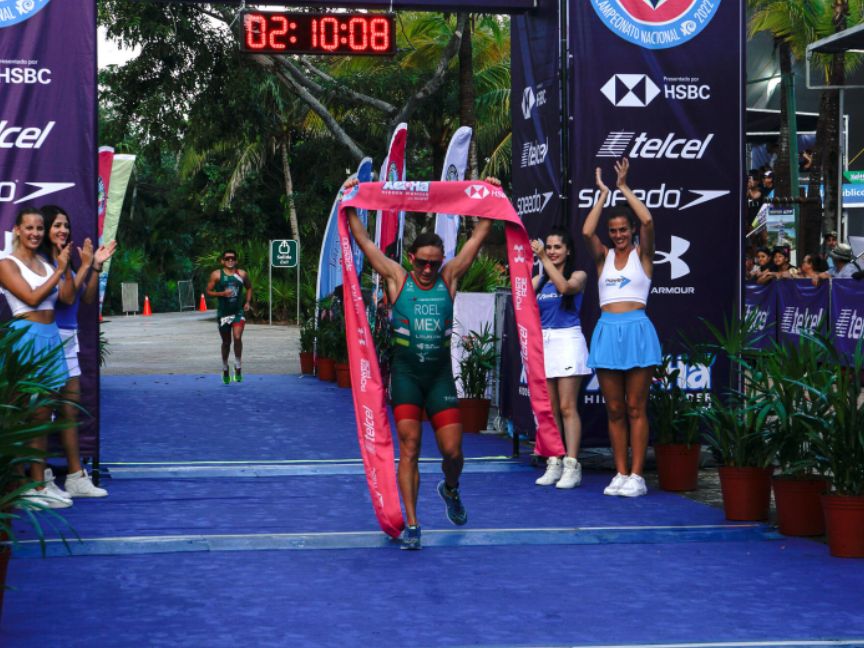 Second place: Selene Martínez Ávila @sele.stica 02:15:37
Third place: Mayra Castañeda Castillo @mayracascas 02:17:15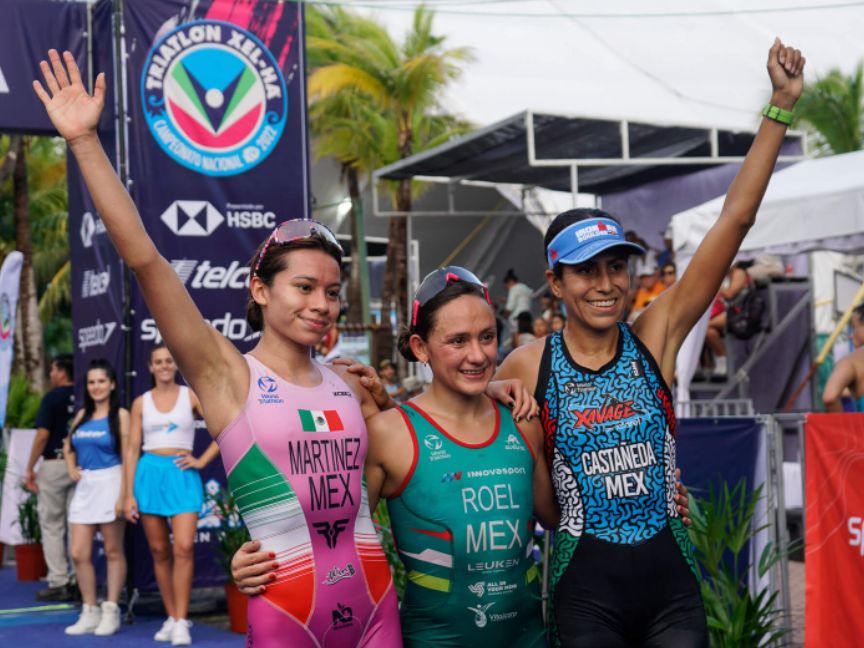 "You just have to fight, be disciplined, never give up, and always have that warrior attitude,' Fabiola Corona told the three women who made it to the podium.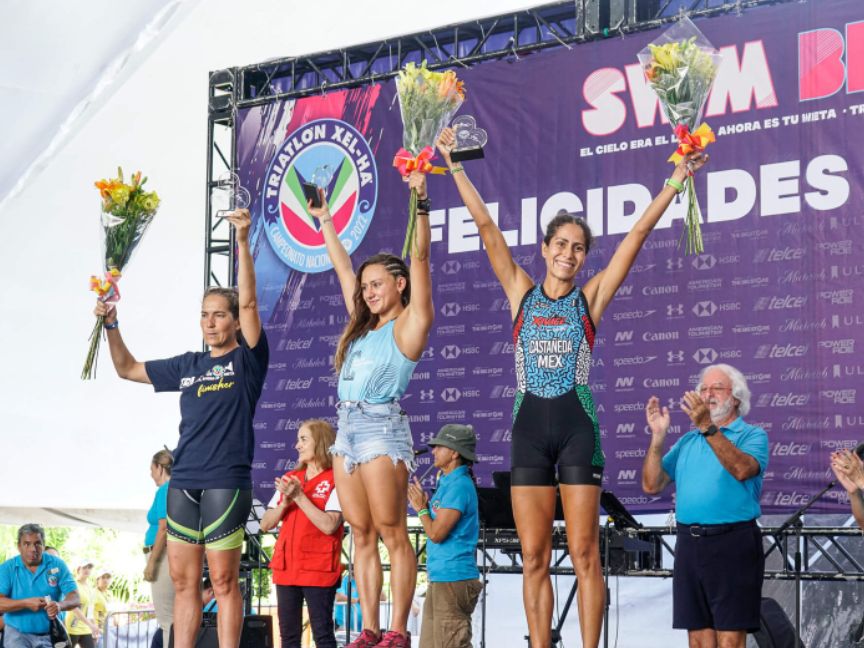 Sprint Category
The winners had a very close time.
20-year-old Hector Alejandro Rodriguez @hectorarodriguezramirez stepped onto the Xel-Ha Triathlon podium as the winner of the Sprint category, achieving a time of 1 hour and 45 seconds.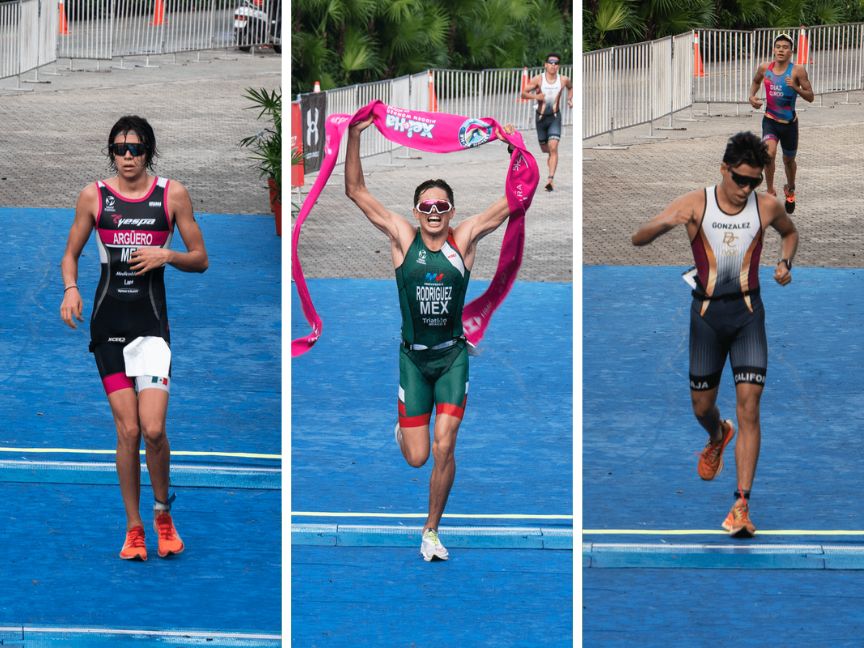 Second place: Andrés Ivan González Vargas 1:00:47
Third place: Ricardo Argüero Carsolio 1:01:04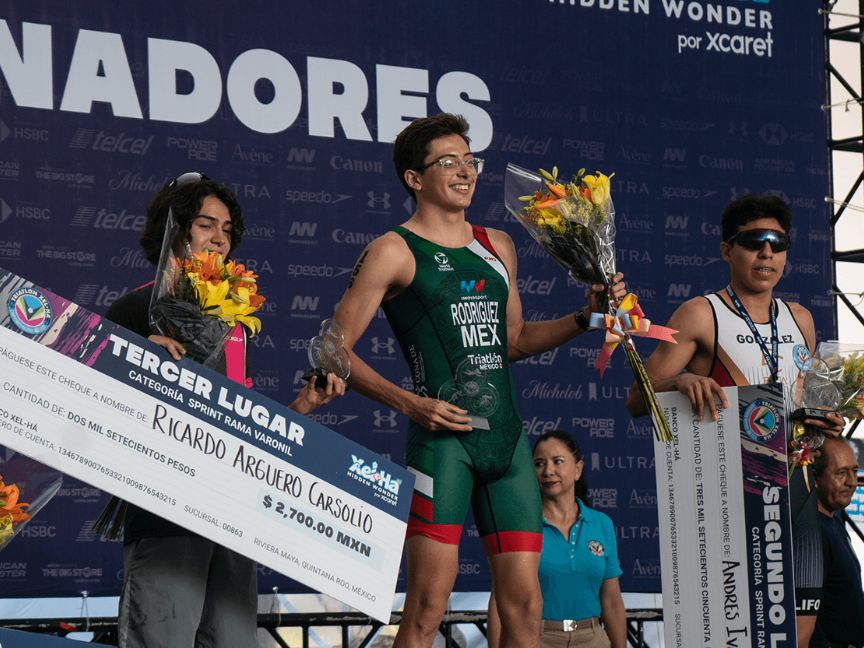 Women's Sprint Category
Daniela Eugenia Medina Rodriguez, originally from Merida Yucatan and only 20 years old, became the winner of her category with a time of 1 hour and 7 seconds.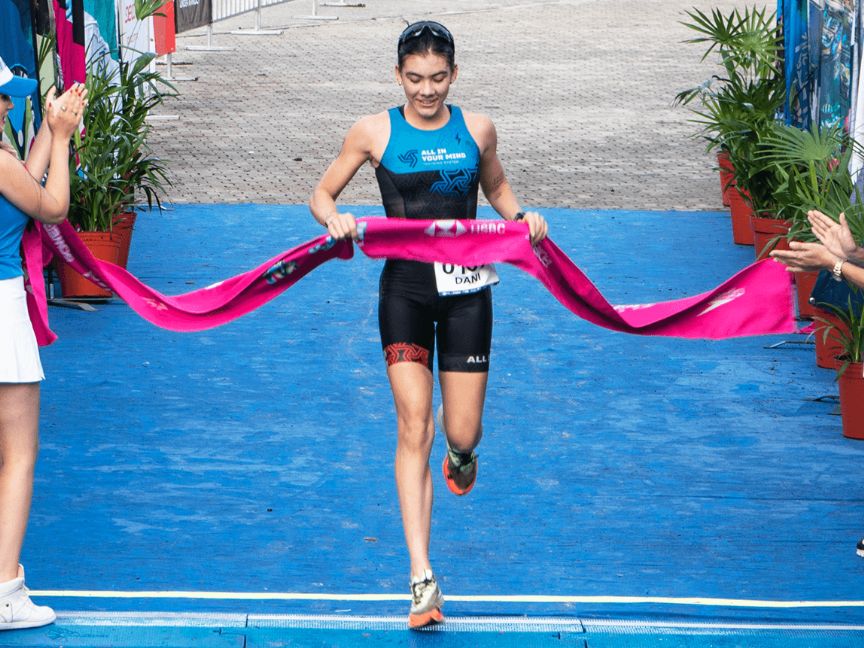 Second Place: Sara Itzel Martínez Ibáñez 01:08:06
Third Place: Paola Zárate León 01:10:06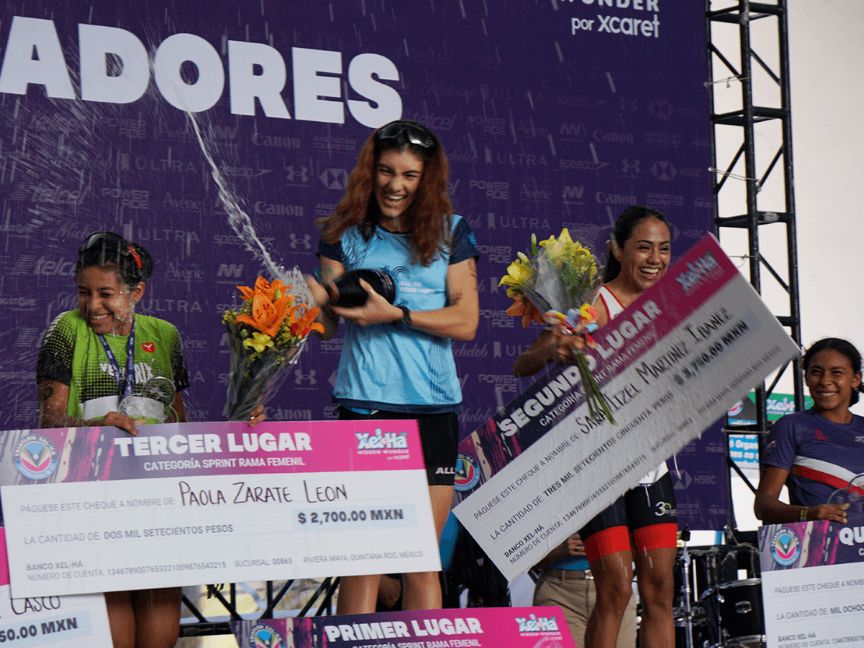 For a complete list of winners, you can visit https://sportmaniacs.com/es/races/triatlon-xel-ha-2022.
A collectible medal
2022, 2023, and 2024 editions of the Xel-Há Triathlon medal will form a collectible trophy with the three disciplines of a Triathlon. See you in the following editions to complete it!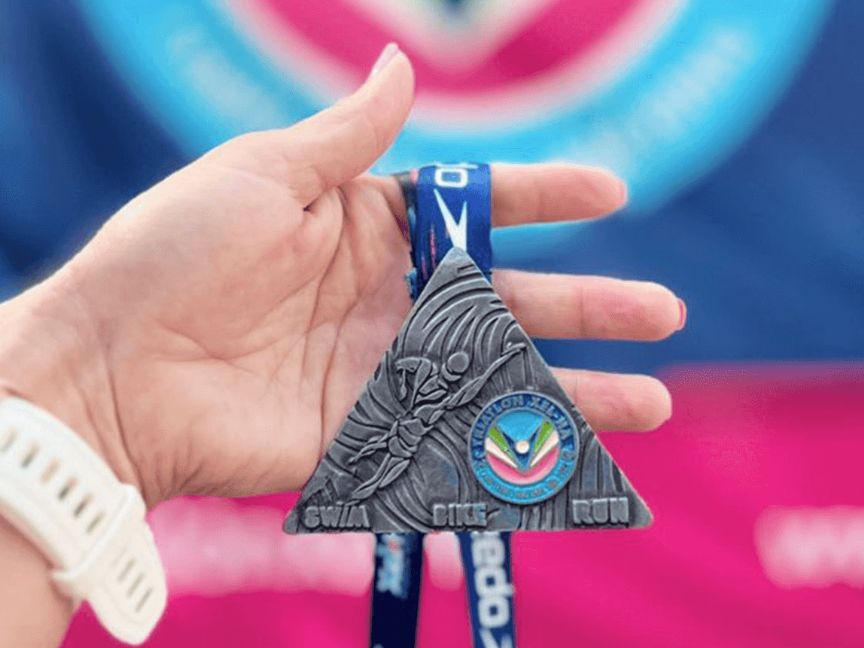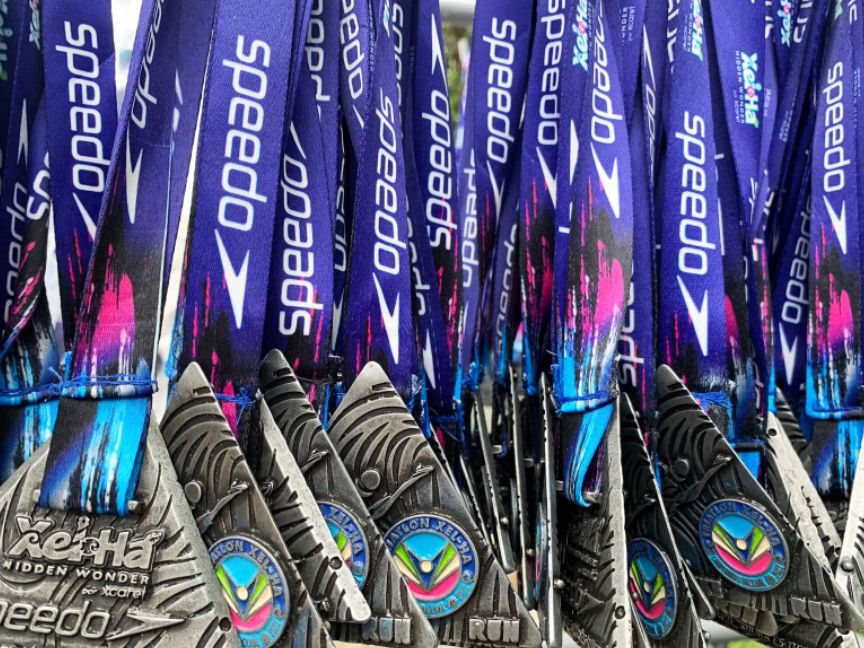 We appreciate each and every one of the Triathletes who made this 12th edition possible. Thanks to their families for supporting them and sharing their passion for the sport. We took with us thousands of smiles and hugs of affection. Since 2009 Xel-Há has sought to unite families in the same way.
Read these tips if you want to participate next year: