Visiting Cancun and Riviera Maya is easy and simple
Here we show you how to do it
Without a doubt, one of the most popular destinations in the Mexican Caribbean is Xcaret, famous for the Xcaret México Espectacular show, its majestic underground rivers, and its varied Mexican cuisine.
Its shows, optional activities, beaches, and coves undoubtedly make it a must-see for your next vacation. But first, where is Xcaret park located? This incredible place has a privileged location between Xplor Park, Xenses Park, Hotel Xcaret México, and just a few minutes from downtown Playa del Carmen in Riviera Maya, Mexico.
These are just some of the reasons why this Mexican paradise has become the favorite destination of many travelers. If you come to visit Quintana Roo and want to go to Xcaret, here you'll find ways to get there from Cancun, Playa del Carmen or Tulum.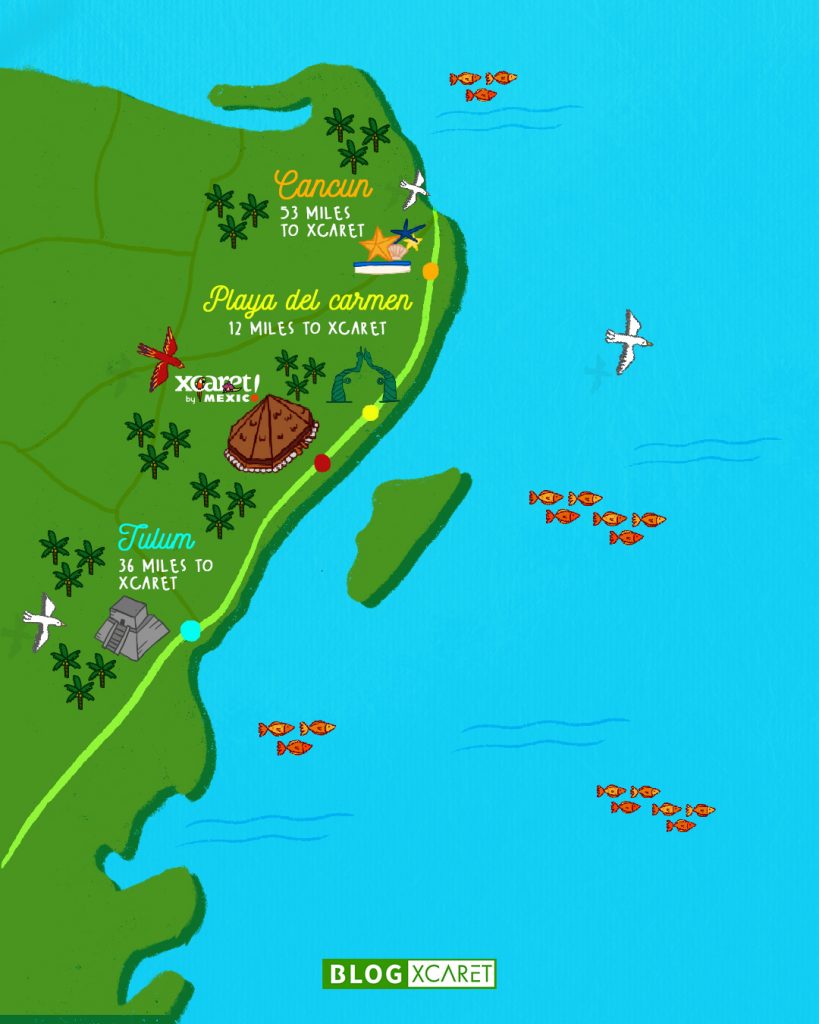 Transportation
ADO
In the Yucatán Peninsula, there is a bus line called ADO or Autobuses de Oriente, which provides its services to practically any destination in the Mexican Caribbean, including Xcaret park. Direct transportation to the park is available from any of the three cities I mentioned above.
You can purchase your tickets through the website, mobile application, or directly at the ticket office. If you buy your tickets in advance, you can get discounts.
ADVANTAGES
You will travel in grand tourism buses with all services.
You won't worry about driving.
You will be able to sleep during the journey to Xcaret park.
They are very punctual with their departure times.
DISADVANTAGES
Service hours are very few.
They usually take a little longer due to their controlled speed.
You will have to go to the terminal on your own.
Xcaret Group included transportation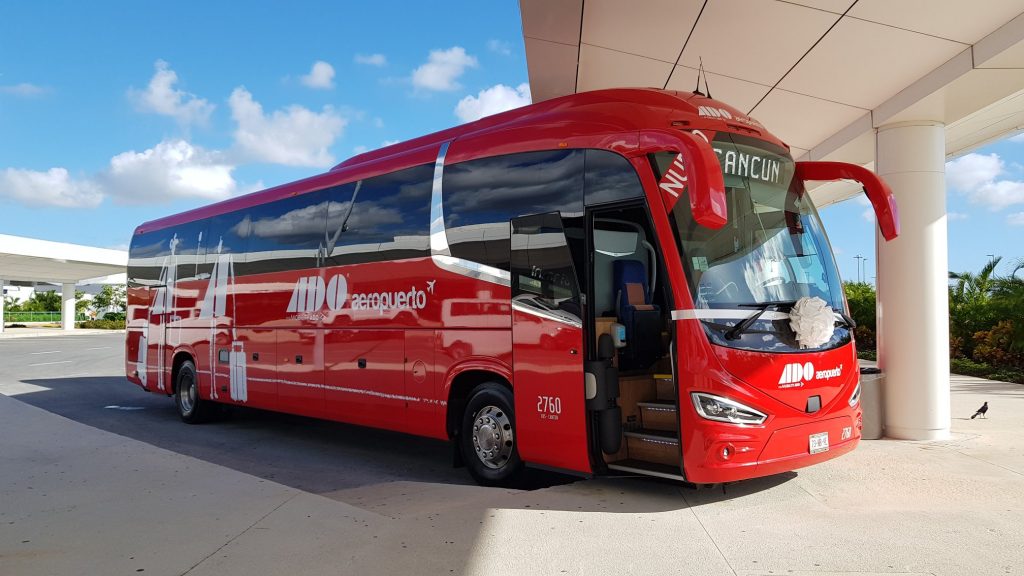 Xcaret Group included transportation
When purchasing any of the admissions offered by Xcaret park, you can add your transportation from your hotel. This is a roundtrip service, just make sure your hotel is on the pick-up list or check the closest pickup point.
ADVANTAGES
They will pick you up at the lobby of your hotel or the closest point.
You can rest during the journey to the park.
You will have a guide who can answer all your questions.
You will be safe with Grupo Xcaret's transportation.
DISADVANTAGES
It will be slow since it will make several stops until you arrive at the Transfer Central.
You must respect the assigned schedule of your pickup so as not to lose it.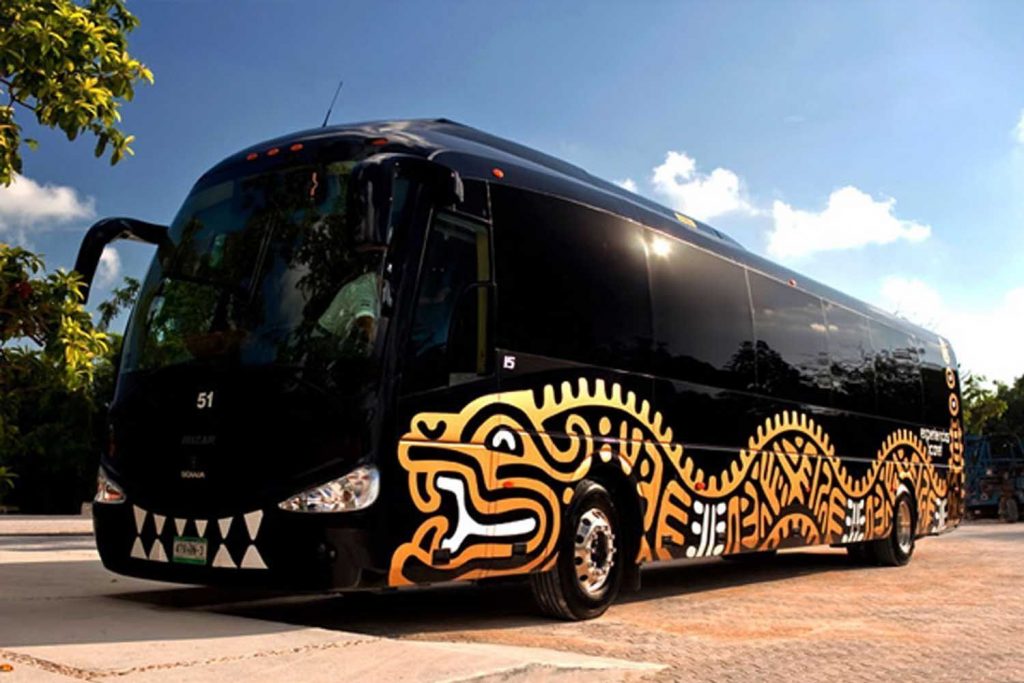 Car
Whether you rent it, be it your own or from a friend, a car can help you get to this paradise.
ADVANTAGES
You decide the time of your arrival and departure from Xcaret park.
You can visit other destinations if you wish.
You can plan your visit with friends or family.
DISADVANTAGES
You will have to drive day and night and you may feel exhausted.
If you do not know the route, you can get lost, but nowadays this is almost impossible.
As you can see, there are several ways to get to Xcaret so feel free to choose the most appropriate for your trip.
How to get to Xcaret?
ADO
If you are in Cancun, you must go to the bus terminal located on Tulum Avenue. It is a well-known point of the city, and you can get there by taxi or public transport.
If you are in Playa del Carmen, you must get to the ADO bus terminal located on Fifth Avenue, which is also known as the Tourist Terminal. It is very close to the dock from where the ferries departures to Cozumel Island.
From Tulum, you also must locate the ADO bus terminal, which is smaller compared to the previous two stations and is on the main avenue.
Xcaret Group included transportation
With this option, you only need to get up early, have a rich breakfast and go down to your lobby to wait for one of our operators to pick you up on the official Xcaret transportation.
In case your hotel is not on the pickup list, we have options to pick you up at the point closest to your hotel.
Besides, Grupo Xcaret guarantees that your trip will be safe since the 360° Xafety protocol is applied in all buses. Some of these actions include cleaning the buses on each of the routes, taking the temperature, the application of antibacterial gel and the use of a mask as requirements before you get in.
Car
Open your favorite maps application: Google Maps, Here We Go by Nokia, Maps.Me or Waze and place Xcaret in the search bar to find the ideal route to the park.
If you are in Cancun or Playa del Carmen, you only need to take the road to Tulum. In the case of Cancun, the trip to Xcaret takes 90 minutes. From Playa del Carmen, you will arrive in 20 minutes.
If you are in Tulum, you must take the federal highway towards Playa del Carmen and you will be in Xcaret in 50 minutes.
Extra option!
Being close to Playa del Carmen, you will have another option to get to Xcaret: taxi. You can find taxis near the ADO bus terminal on Fifth Avenue.
ADVANTAGES
You can get to the park faster.
You choose the time you want to arrive.
You will be comfortable.
DISADVANTAGES
If you travel on your own, it could be expensive.
It may take a while to get a taxi.
Read more: How to get to Chichen Itza in Yucatan
Now you have a complete guide to plan your visit to Xcaret.
If you have any questions or suggestions, leave it in the comments.