Activities that put the destination on the map
And the excitement on your vacation
If you visit Riviera Maya, you will surely be attracted to the idea of relaxing on the seashore and we cannot blame you… Although, if you really want to return home feeling like the world's greatest traveler and full of new anecdotes, there are certain activities that you must experience firsthand. Read on to discover the best excursions in Riviera Maya.
1. 118 ft high waterslides: Xel-Há Scenic Lighthouse
This activity was only inaugurated in 2017 and has quickly gained popularity among lovers of speed. Yes, these four spiral slides are 118 m (over 380 ft) high above the turquoise Caribbean and end upon a pretty epic splash. You can choose which one to launch from, and legend has it that if you want an extra boost of adventure, you must choose the white ones. Although the landing pool is only 1.20 m (4 ft) deep, it's essential for you to know how to swim.
In addition, this activity is included in your all-inclusive ticket to Xel-Há. You cannot miss the opportunity to visit a Natural Wonder famous for its open spaces and unlimited snorkeling.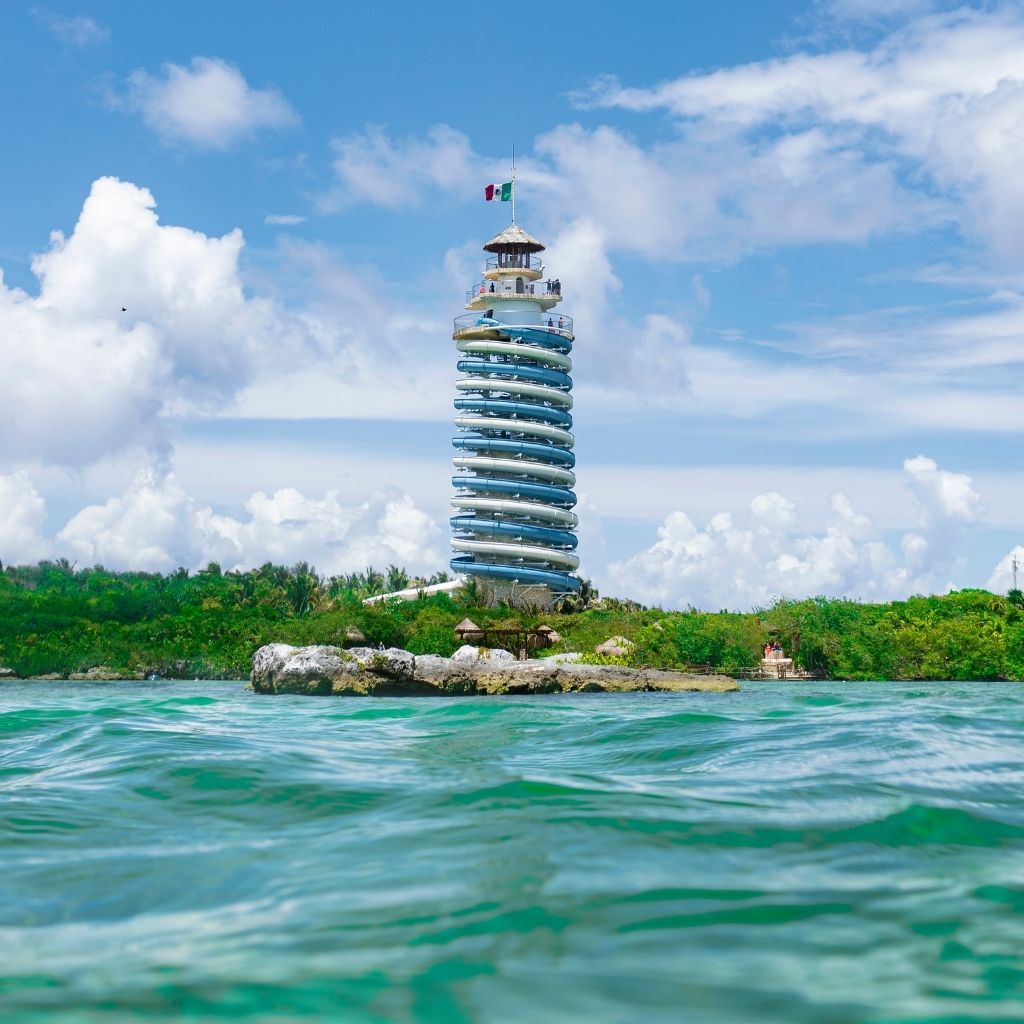 2. Xcaret México Espectacular: Xcaret park
The famous Xcaret natural park is perfect to spend a day among family, but have they told you about its emotional ending? Don't worry, I'm not going to spoil anything for you, but what awaits you at Xcaret México Espectacular is a display of impressive talent. A narration of Mexican culture in the voice of regional singers and the precise dance steps of different states of the Republic.
My best recommendation would be to save up energy, arrive on time and if you have the opportunity, buy the pairing dinner to elevate this show even more.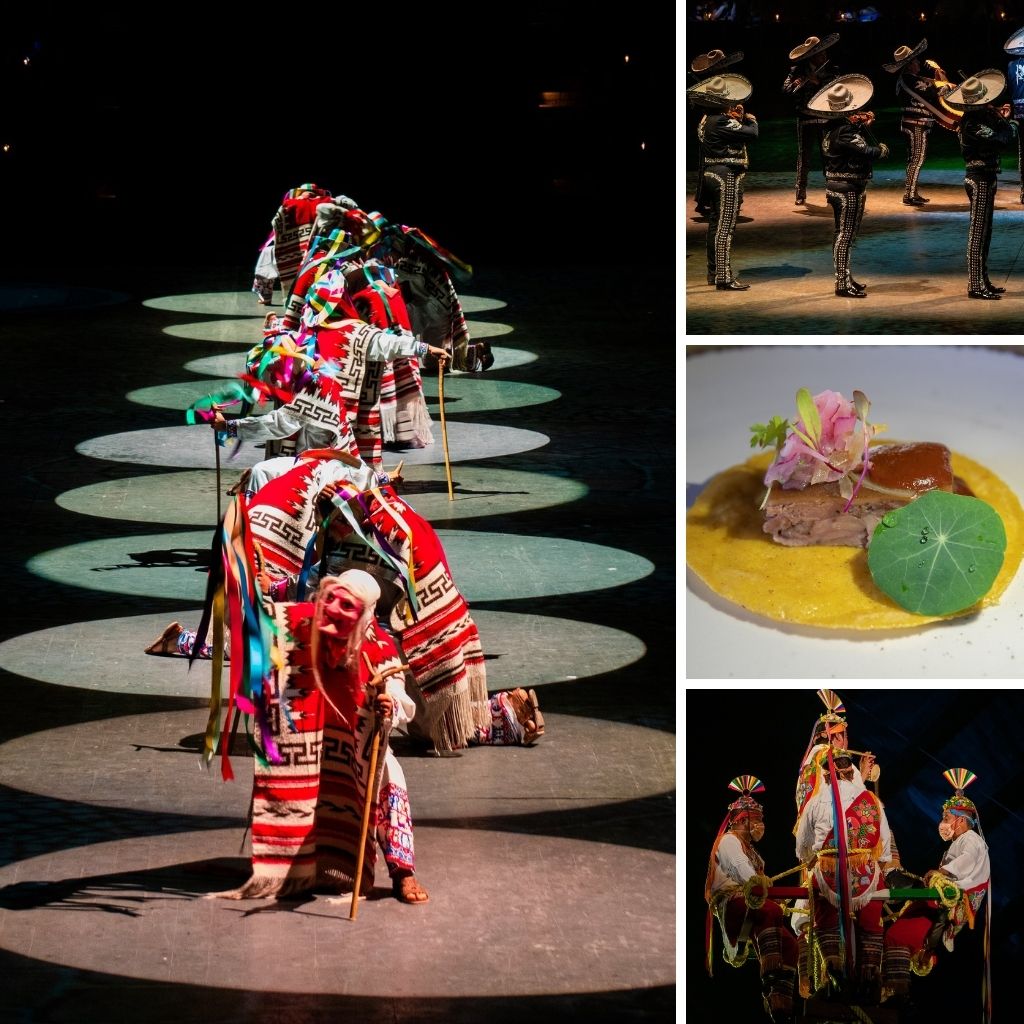 The 12 most frequently asked questions before visiting Xcaret.
3. Hammock splash: Xplor
Few things excite us southeast Mexicans, as much as hammocks. Many can talk about them in relation to a 10/10 nap, but few associate them with extreme activities. So we had to feature it as part of our best excursions in Riviera Maya! This is a unique opportunity to have the most original dive ever. The best part is that, thanks to the use of helmets and other safety measures, this activity is suitable even for the little ones. We recommend that you check the activity traffic light located in the center of Xplor, as it's the best way to optimize your time. Nobody wants to miss out on delicious grilled food during their adventures.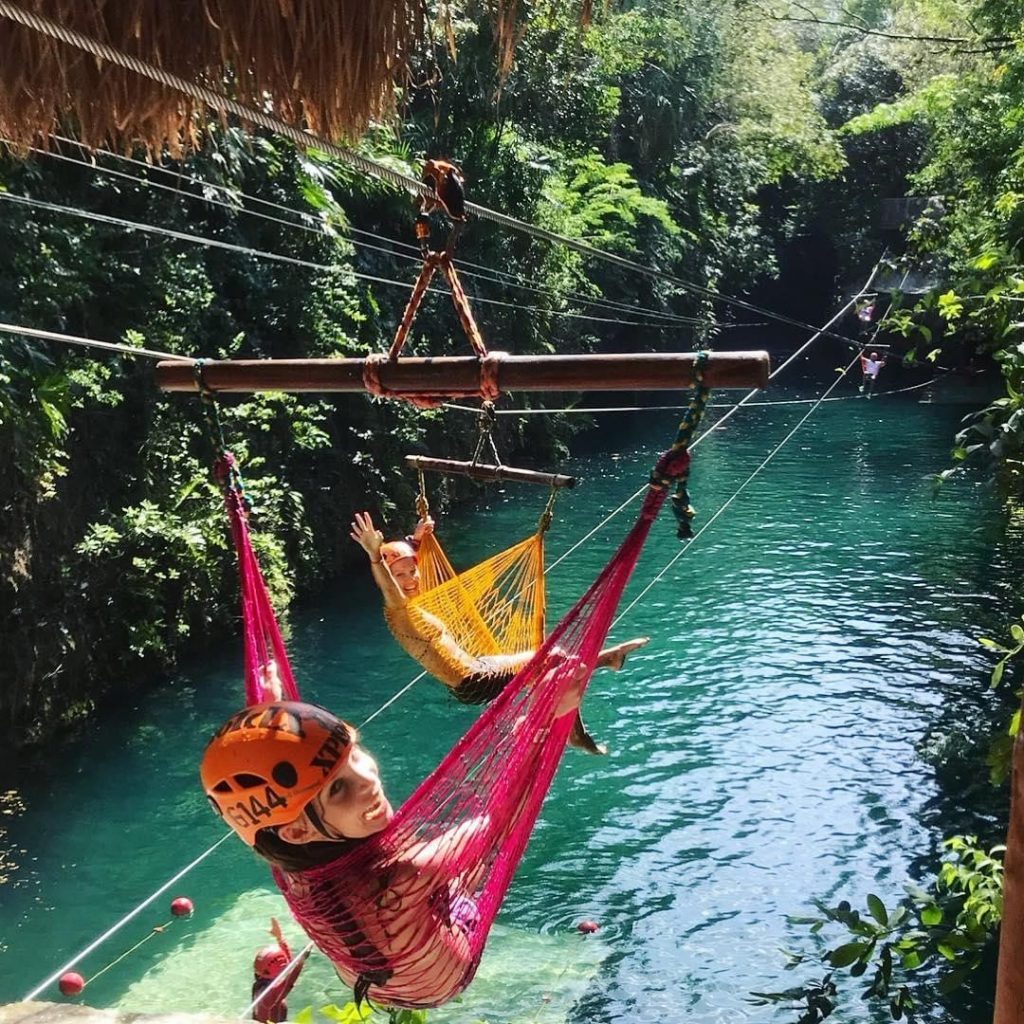 Vía Instagram @tassya_tassya
4. Fly on a zip line at night: Xplor Fuego
Xplor is the most visited zip line park in the world and its constant innovation has a lot to do with this. Between torches and a ring of fire, this park manages to transform itself with the help of flames. Slipping through the darkness of the rainforest can be a truly liberating experience, totally unrepeatable! Many visitors prefer Xplor Fuego for its quirky atmosphere and cozy colors, but you should definitely have both experiences, at least once. If you feel comfortable with darkness, this should be on your list.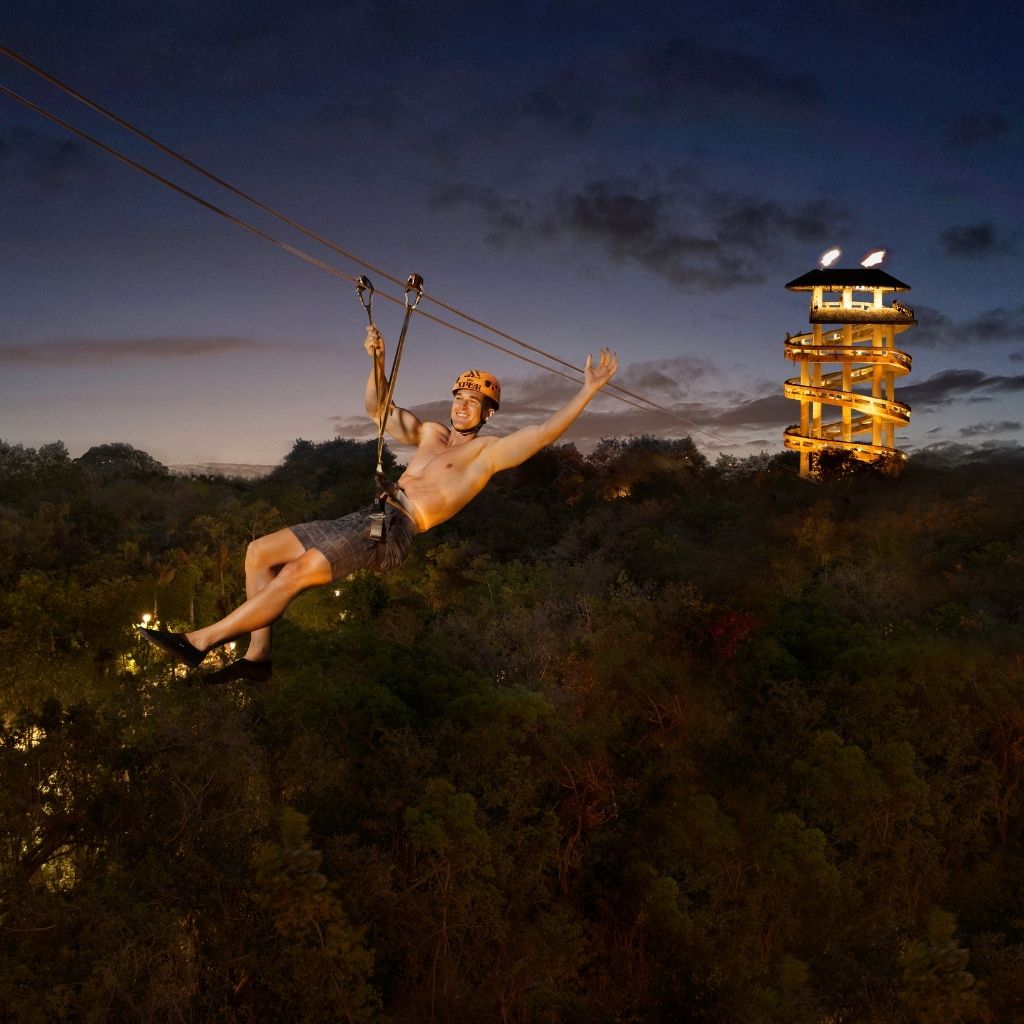 5. Kayaking in cenotes: Xenotes
Activities in communion with nature can sometimes be high-impact. Kayaking has just the right amount of physical activity and contemplation… so sign me up! Comfortable clothing is mandatory, as you will be in constant movement and the fun doesn't stop with the Xenotes guides.
I recommend you get ready for a day of literal disconnection. Sometimes getting a signal is complicated, but you will be very busy discovering all the charm of the ancient cenotes. Other surprises that await on this tour are: rappelling, zip-lines, slides and snorkeling. The use of a life jacket is mandatory during the day, but it's definitely part of the adventure gear that'll help you enjoy to the fullest.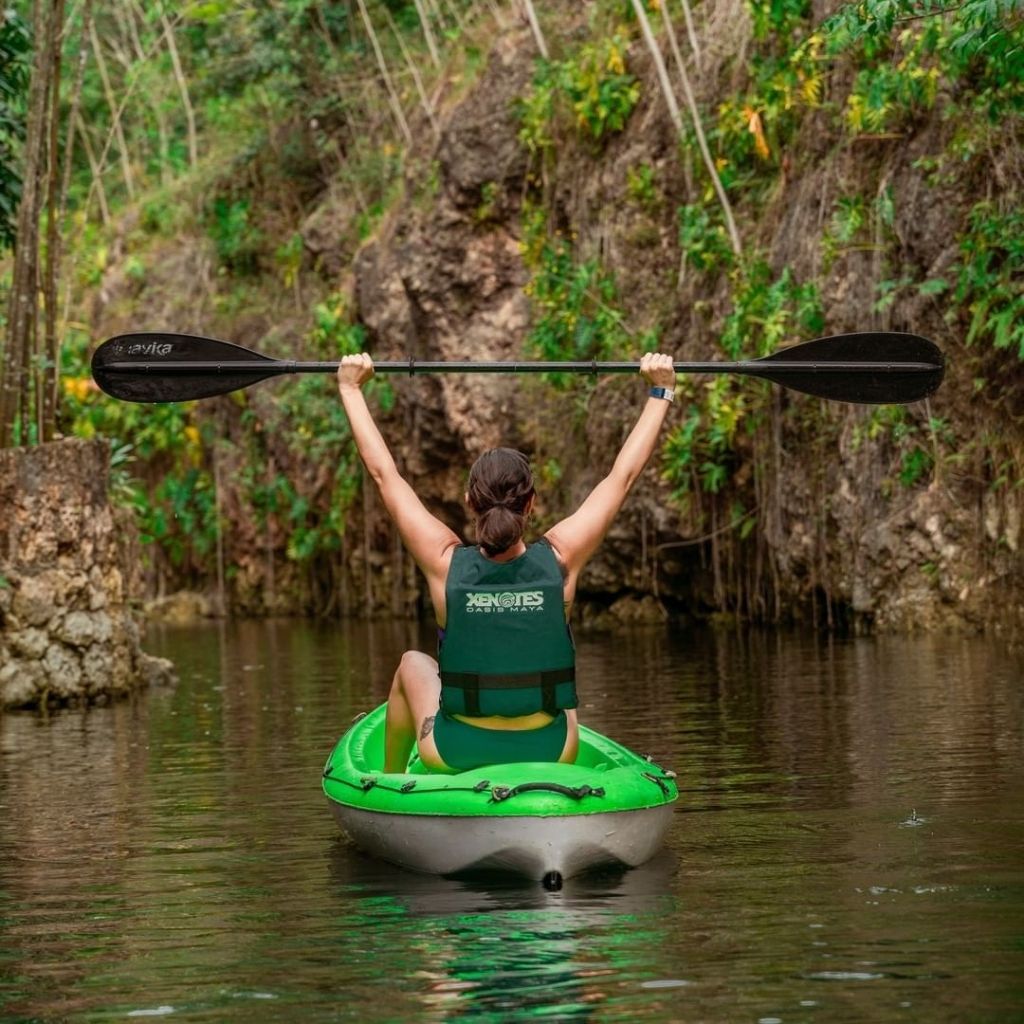 6. Mexican games on board a party barge: Xoximilco Cancun
"Toques" is a Mexican tradition that comes a bit hard-to-explain for the rest of the world, but of course we will try: imagine being part of a floating party, on board a trajinera (party barge), with open bar and live music. Throughout the evening, you'll have many invitations to participate in Mexican games organized by the compadres (entertainers and party pros). The "toques" are hands down one of the favorite games. It all starts with a small box full of power. A brave someone holds the metal ends to feel different intensity electric shocks (10 in total). The operator of the box will be your compadre on board. It's not painful as one may think, but a challenge that requires a lot of courage and that guarantees a lot of fun on board.
The full tour lasts approximately 3 hours (including traditional food and desserts), which may seem like a short amount of time, but no one knows how to get the most out of each second like the Xoximilco Cancun team. Since your safety is paramount, acquiring round-trip transportation is a great option, but if you are staying in Cancun, a taxi is not a bad idea either.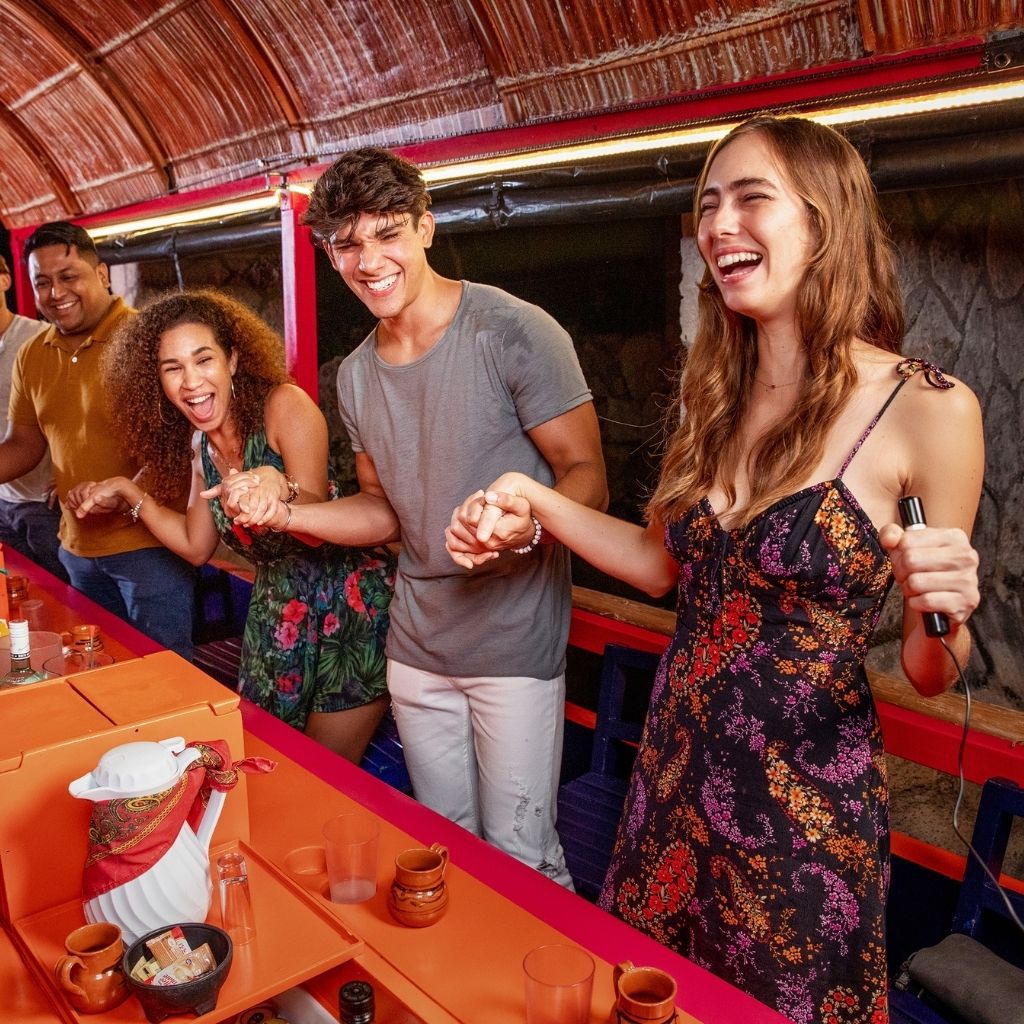 The 15 most frequently asked questions about Xoximilco Cancún.
7. Original memories: Xenses
Whoever said that a photograph is worth a thousand words, surely bought the photo package during their visit to Xenses. This is the favorite park of those who love short but impressive tours. You can spend hours capturing the best optical illusions with your friends or exploring mind-bending and completely out of the ordinary scenarios.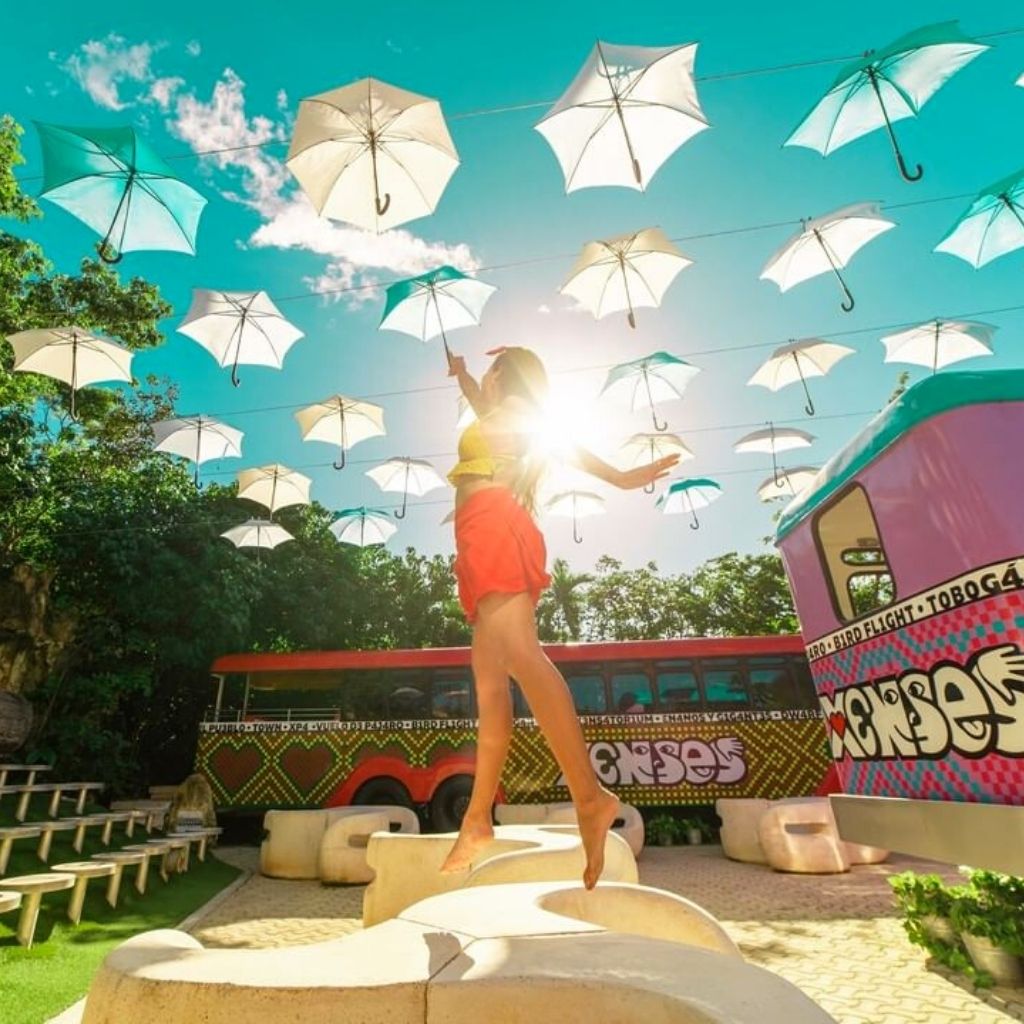 Whether you love to party, go on adventures or just admire nature, the best excursions in Riviera Maya, never disappoints. There are many options for planning your dream vacations, but scheduling in advance will always bring great benefits. Don't forget to take advantage of the parks' online discounts, which in addition to securing your spot, are loaded with a joyous "we're almost there!' feeling.
Which activity would you enjoy the most?