Take a break from the city
Live your life away from it!
Life in a big city can be absolutely awesome! I can tell you that because I lived for 25 years in one of the biggest around the globe: Mexico City. I can also tell you that the best part of living there is having a lot of options for almost everything. Entertainment, restaurants, nightlife, everything! But living there can also be a little frustrating too. The long distances between work, home, gym and everything you have to do day by day can turn a big city in a really difficult place to live in. If you feel sick, frustrated or bored, you need to get out of there at least for one weekend. Believe me, seeing different places or visiting small towns will make your life happier, so take a break from the city!
Here I will try to convince you to buy a ticket and pick your backpack searching for an adventure outside the big cities.
1.- See different things.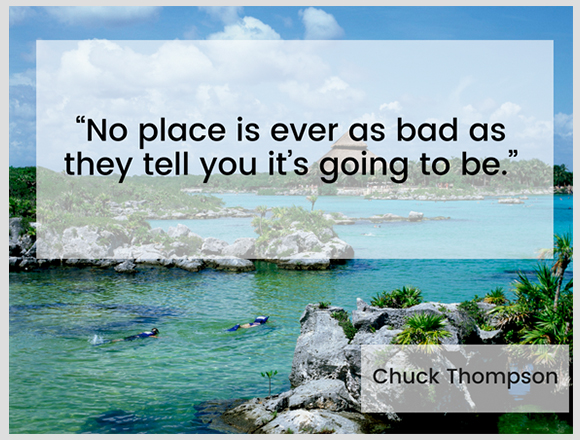 There's a world absolutely different than the one you live in, but beyond the opportunity of seeing incredible landscapes, travel gives you perspective. Every time you leave your home you get back with a different point of view. Those motivational Facebook phrases are real… travel is one of the best things you can do, so what are you waiting for to take a break from the city?
2.- Bye bye, technology!
Yes, your cell phone, laptop, smart tv and all your gadgets help you in many ways, but, believe me, you don't need them to be happy. How much time of your day do you spend watching a screen? A lot! That landscape you have as wallpaper exists. You just need to turn off your gadgets and watch the world with your own eyes.
3.- Routine… what is that?
Alarm, traffic, office, computer, traffic, bed, repeat. One of the problems of the big cities is the mobility. You can't do as much as you wish in one day, but far away from the cities, you'll be able to do as much as you want. There are a lot of peaceful places where life tastes better and your time can be invested in a lot of stuff that will make you happier.
4.- Discover your country
Escaping from a big city doesn't mean you have to travel that far. Let small towns surprise you! You only have to drive a couple of hours (or probably even less) to see a whole different landscape. People, food, and everything can change.
5.- Vitamin Sea
Scientifics (and myself) have proved that sea cures everything. Sea cleans your soul and clarifies your mind. Give it the opportunity to clean you and visit it every time you can, if you're lucky enough, you'll be able to live nearby it.
As you can see, I'm not a fan of the city life, but I can recognize that cities are comfortable, and give you a lot of options. Still, I think that real life is far away from them, if you don't think as me, it's ok, but I strongly recommend you to take a break from the city and visit other things, you might change your life and never go back.
Write in the comments why you think is good to take a break from the city!