Have you traveled with your partner?
Discover 7 things that will inevitably happen when you do
When you are in love, you want to do everything with your significant other: go shopping, exercise, binge-watch series and of course, travel together. And if this isn't in your plans, add it to your bucket list as in right now! All trips are worth, with family, with friends, alone, but traveling as a couple is a unique experience that could be classified as the ultimate relationship test, as the phrase says:
"I have found out that there ain't no surer way to find out whether you like people or hate them than to travel with them." Mark Twain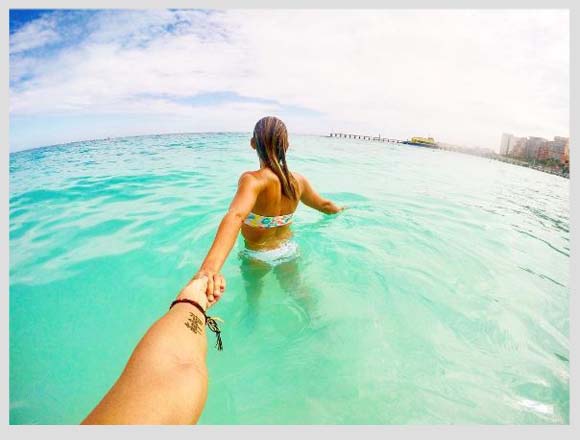 When planning a trip with your partner, there are some things to keep in mind, like the following 7 things that will happen to you and that will surely change your relationship forever.
1.- You will be more united
Planning a trip requires time and dedication to choosing the right destination, lodging, and perfect activities for both, time that will make you join in the same goal: celebrate your love with an unforgettable trip. During the journey, you'll spend 24 hours together, doing everything possible to make sure both are enjoying to the maximum each experience. And finally, at the end of the journey, having achieved a common goal will make you return home with recharged energy and more united than ever.
2.- You will learn a lot about each other
Just like when you move in together when traveling, you learn different aspects of your significant other, which will undoubtedly help strengthen your relationship. The travel habits and customs that you forged from when you used to travel with your families will stand out, or if you are used to traveling solo too. Adventuring as a couple for the first time is the perfect time to suit everyone's tastes; Eventually, you will become experts and make an excellent team.
3.- You will experience new things together
Without a doubt, experiencing new things is one of the primary motivations for traveling, but sharing it with your loved one is even more exciting. Try exotic flavors, climb mountains, meet ancient cultures, dive in the depths of the sea, who wouldn't want to live all this with their bae?
If you too love to enjoy the simple things, read: Short moments that last forever
4.- You will learn to overcome new challenges
Every trip has a little bit of "stressful' or complicated moments, however, knowing that you count with the support of your life partner is a relief. When traveling, as in daily life, problems become opportunities to improve and learn, solving them side by side with your significant other is the perfect way to prove that you are made for each other.
5-. You will create stories that will last forever
Once the trip has ended and you have to return to reality, the only thing that will stay with you forever are the memories. With all the photos they will have together, you can make an album either printed or digital to share your experiences with friends and family. Also, many couples record small clips of their favorite activities to later edit a video compiling the best of the trip: an excellent idea to revive emotions!
Need inspiration? Read: Inspiring couple Instagram accounts
6.- You will have different conversations
Surely, one of the reasons you fell in love with your life partner is because you never get bored being together, he or she probably makes you laugh and can spend hours talking about anything. When traveling, this doesn't change, however, being in new environments and places, your imagination flies farther, and your ideas are fresh: as a result, there are amazing conversations in front of the sea, on top of a mountain or walking through a picturesque village.
7.- You will want to plan many more trips
Finally, something that's going to be inevitable is that you will want to plan more and more trips. You will feel so inspired and motivated by the success of the present, that as soon as you return home, you will begin to organize your next adventure. You'll feel the urge to discover new cities and explore different landscapes.
The ideal destination for couples, read: The perfect places to have a romantic escape in Riviera Maya
Can you identify with any of these situations? What are some things that happened to you when on travel with your partner? Write a comment.