Caribbean seafood in Xcaret
Salmon Ceviche Recipe
The cevivhe is so beautiful no matter its latitude, whether it is from the north or the south, it reminds us that culture can be found in each of its culinary corners all-around Latin America.
The adventure begins, get ready to feel the excitement of tasting a dish that leaves you with the best memories of a trip to any coastal city in Mexico. If you visit any place in the world and you'd like to get to know its culture, then you cannot forget to try a typical dish.
That's why I decided to talk specifically about this incredible dish that the sea gives us, emblematic as few, and delicious as many, because yes, Mexican food is full of delicacies.
This time I had the opportunity to try two different types of Ceviches from the restaurant "El Manglar' in Xcaret: the mixed and the salmon. The Salmon Ceviche left me pleasantly surprised and I will tell you why in just a moment.
Cultural Context
On the Pacific Ocean coast across the American continent, there are many varieties of ceviche or ceviche. Just imagine how many varieties there are that, it can be written two different ways (ceviche) and it's officially accepted in the Spanish language. From Mexico in the Pacific and the Gulf Coast to Chile; Each country has a special touch, but … what makes the Mexican Ceviche so special?
How did it come about?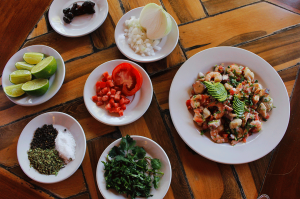 It is irrefutable that gastronomy in any culture is so important because over time it has evolved, as well as the local language or idiosyncrasy. The origin of certain dishes is often related more to legends, while historians have tried to trace each cultural element, including gastronomy, searching for answers to unresolved questions, and for this dish, there are many theories.
In those boring History classes in Elementary School in Mexico, they explained that when the conquerors arrived in Mexico, the Spaniards brought various fruits, vegetables, and animals that did not exist in America, like lemons just to mention one.
The same happened in other countries such as Peru (a country that considers Ceviche as a Cultural Heritage of Humanity). About the origin of the ceviche, it is practically impossible to say where this favorite dish came from but having this in mind will give us the sense to know how it is commonly prepared in Mexico.
With the previous information, we could say that the ceviche is not as such a dish, but a way of cooking.
The ingredients in each country change according to each culture. For example, in Peru they have "Leche de Tigre", which is made with fish and seafood to your specific liking, salt, pepper, garlic, ginger, limes, coriander, purple onions, milk (evaporated), fish and chili, all this is served in the ceviche. Meanwhile, in Mexico, you cannot forget including the spicy touch, for example in southern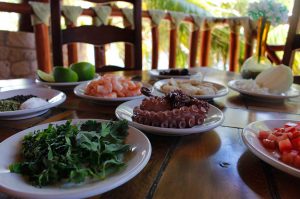 Mexico: located in the coastal places of Yucatan and Campeche, habanero pepper is frequently used, which gives a very spicy touch, not recommended if you are not used to withstanding spicy food, but it is very delicious.
The entire Pacific coast of Mexico is considered a great exhibitor of ceviche, where you can find seafood from warm waters like golden fish, red snapper, grouper, shrimp and do not forget the delicious octopus.
Returning to our experience, the adventure this time was at a seafood restaurant in front of the beach in Xcaret. They assigned us a table where they presented us with two dishes, the mixed ceviche, with octopus and shrimp, and the salmon ceviche.
Mixed ceviche
The first dish has a delicious citrus touch with a few drops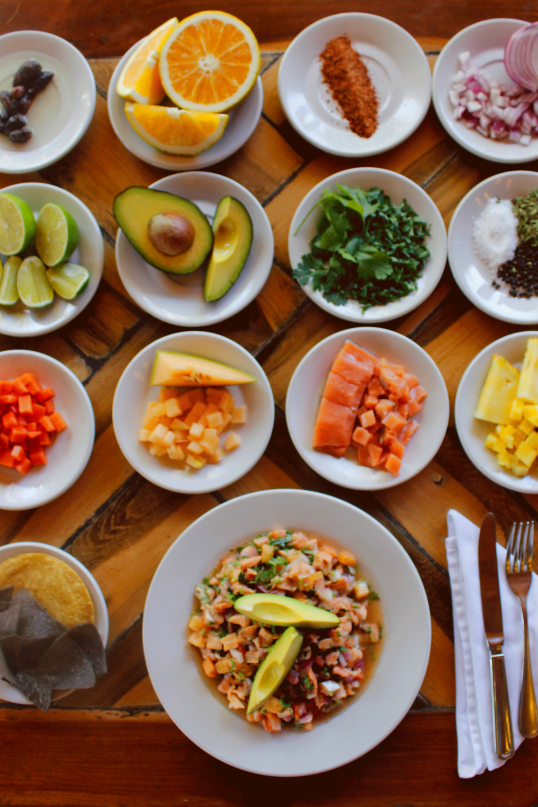 of olive oil, exquisite shrimp marinated to perfection, and an ingredient that I consider the most important, the octopus. Why do I consider octopus important? Personally, I have always found it difficult to cook octopus, because if it is not well cooked it can become hard.
It should be noted that the ceviche I tasted, made by Chef Israel Crisostomo, was extremely soft. It seemed to almost melt in your mouth. Cooking with this type of preciseness causes the dish to be enjoyed so much.
In addition, it had tomatoes, chopped onions, and crushed garlic, to give a special flavoring to the Mexican ceviche.
The specialty of the house
The second plater cannot be explained in words. Firstly, I had doubts about it because I had never been a fan of papaya or sweet dishes. I must accept that when they told me that these were some of the main ingredients, I was a bit disappointed. However, once I tried the ceviche I was delighted. The citrus flavor of the sour orange with the light sweet touch that the papaya, pineapple, and melon gave, was a combination of flavors unlike any other.
It should be noted that it also has a touch of Tajín chili, avocado, and purple onions. This is when I realized: that you may not like a certain ingredient by itself, but once you combine it with other ingredients in a dish and with a certain purpose, it can create a unique and unrepeatable flavor.
Pairing
In the Restaurant "El Manglar' they give great importance to Mexican products and the wines that are served. In the case of mixed ceviche, I recommend a white wine that will make the flavors of the seafood stand out. The aroma of the wine, in this case, it can be a Chardonnay or Sauvignon Blanc. For the Salmon Ceviche, I recommend a dry, pink wine with a cabernet, considering the sweet notes of the dish. A final recommendation is that you can taste your food together with the recommended wine.
Thank you so much for reading this recommendation. I hope that you enjoy your experience at "El Manglar" to the fullest.
Recipe and preparation
2 salmon fillets (2 cups)
1 chopped melon
3 slices of papaya cut into small squares.
¾ sour orange juice cup
Salt and pepper to taste.
1 Avocado, to serve.
2 Pineapple slices
1 Purple onion
1 Cooked garlic.
Wash the salmon fillets with cold water. With a very sharp knife cut the fish into small cubes.
In a bowl, drain the sour orange with a little salt, pepper and soak the salmon cubes for 1 hour.
Then drain well and discard the sour orange juice. This is a very important process because it is the cooking time.
Mix the cubes of salmon with papaya, pineapple, and melon, together with the cilantro in a bowl. You must be careful not to undo pieces of salmon
Add salt and pepper to taste and prepare the chips, that the combination is delicious