3 Delicious Yucatecan antojitos
Cooking with Yucatecan flavor
The origin of how this cheese arrived in Mexico is still a mystery; legend has it that it was thanks to a Dutch ship that was sailing around Yucatan coast that the first pieces of cheese ball stealthily appeared. By 1950's cheese ball has become an essential part of the Yucatecan cuisine. If we could put it in everything, we would do it. Here are three of our favorite cheese ball recipes.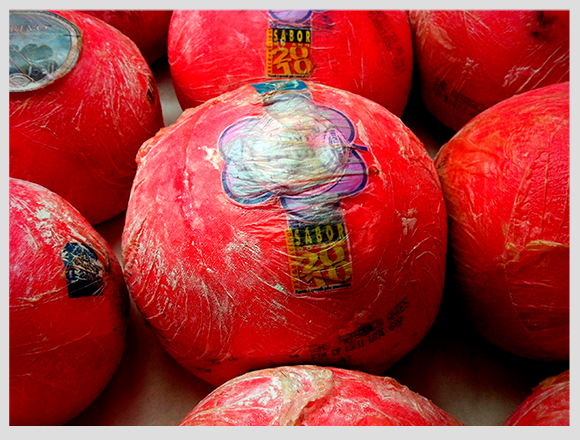 Chaya with cheese ball empanadas
Let's start with one of our favorites: chaya empanadas. Not only they are delicious, but they are really simple to make, and the ingredients are easy to find. Also, Chaya, it's full of benefits: it helps regulate blood pressure, improves blood circulation and reduces weight. But, who are we trying to fool? The diet is the last thing we think when we eat this delicious Mexican dish.
Ingredients:
-2 cups of corn dough
-1 1/2 tablespoons of wheat flour
-Grated cheese ball
-1 cup chopped chaya leaves
-2 sweet chilies
-Chopped cilantro leaves
-1 teaspoon salt
-Canola oil
Preparation:
1.- Beat the masa with your hands as if you were going to make tortillas
2.- Add salt, flour, chili and chopped leaves
3.- Make a ball with your hands and flatten it with a tortillera
4.- Fill it with cheese and fold it in half in the form of an empanada
5.- Fry it in boiling oil and then let them drain on absorbent paper
Cheese ball marquesitas
Of course, marquesitas are on our list. Originally they were only made with cheese ball, but today you can find marquesitas combined with all kinds of ingredients like Nutella with cheese ball or strawberry jam with the cheese ball. A must antojito if you are visiting the South of Mexico and a very easy recipe to cook.
Discover Mexico through its flavors, read: 8 Exotic Mexican Dishes You Should Try
Ingredients:
-2 egg whites
-1 cup of sugar
-1 spoon butter
-50 g flour
-2 small spoons of vanilla
-1/4 cup liquid milk
-Grated cheese ball
Preparation:
1.- Mix all the ingredients with a wooden spoon or a spatula
2.- Once you have a light combination, spread a little oil on the pan
3.- Pour the mixture into the pan, and wait until its cooked
4.- Add the grated cheese while it's hot
5.- Gently roll it with your hands until it has the shape.
Cheese ball cake
The sweet flavor of the cheese ball is perfect for desserts. There are such a variety of choices when it comes to desserts made with cheese ball: from cupcakes to tres leches cakes. Today, we are going to share our favorite one: cheese ball cake; perfect for an afternoon with coffee, cake, and friends.
Ingredients:
-8 cups of flour
-1 can of condensed milk
-1 1/2 cups of sugar
-6 eggs
-1 cup of butter
-1 spoon of vanilla
-2 tablespoons of baking powder
-1 1/2 cups of grated ball cheese
Preparation:
1.- Beat the butter and the sugar with a mixer until it is blended
2.- Without stopping beating, add the eggs, one by one
3.- Add the flour with the baking powder
4.-Blend the condensed milk with half of the cheese and add 1/2 cup of water
5.- When everything is well mixed, add the vanilla
6.- Pour the mixture into the already greased and floured mold and bake at 190ºC. Always checking every 20 or 25 minutes
7.- Decorate with grated cheese.
As you see, everything is better when you add ball cheese to it. Now with these ideas, you can create your own cheese ball recipes and dishes.
Want to learn more about Mexican cuisine? Read: 10 Authentic Dishes Of Mexican Gastronomy
Which other cheese ball recipes do you know?