If you are a wine lover, this is for you
In Mexico, we have six important wine regions that, thanks to its variety in climate, offer us different types of grape flavors and smells. There are seven Mexican wine regions that stand out in the country: Baja California, Queretaro, Aguascalientes, Zacatecas, Sonora, Durango, and Coahuila.
Each region and each vineyard have unique qualities that make their Mexican wines very special. Let me get into it!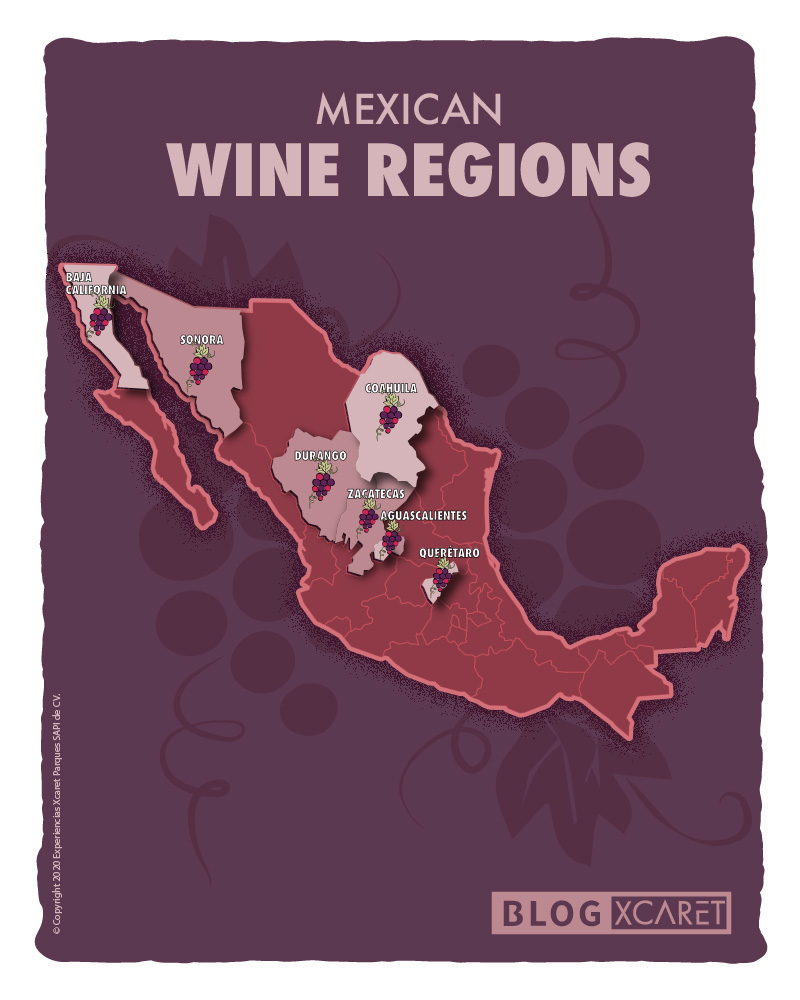 1.- Baja California
One of the most important Mexican wine regions of the country where 85% of the total wine production is concentrated. Located within the wine strip, it has wet winters and dry and temperate summers, making it an ideal state for high-quality harvests.
Its most important growing areas are Valle de Guadalupe, Valle de Calafia, Valle de Santo Tomás, Valle de San Vicente, and Valle de San Antonio de las Minas. The vineyards of Santo Tomás, Pedro Domeq, LA Cetto, and Monte Xanic are among the ones that stand out the most.
2.- Queretaro
Querétaro has a privileged climate that gives the vine a special touch in this region of the country. Two important municipalities in the state stand out for grape production: Tequisquiapan and Ezquiel Montes.
Queretaro has gained greater relevance as a wine region thanks to the various activities that the state offers. Among them, we can name the Wine and Cheese Route, grape harvests, concerts, guided tours of wineries, or helicopter flight over vineyards.
One of the most important wine houses in America that we find in Queretaro is Cavas Freixenet, with a cava 25 meters deep into the ground. The main strains that are produced in Queretaro are:
White wines:
St Emilion
Chenin
Sauvignon blanc
Macabeu
Red wines:
Cabernet Sauvignon
Pinot Noir
Gamay
Pinot Gris
Malbec
3.- Aguascalientes
Here we can find some of the main brandy and wine producers which are: Casa Vitivinícola Leal, Vitivinícola La Bordaleza and Vitivinícola Dinastía. The main strains that are cultivated are:
White wines:
Chardonnay
Muscat blanc
French Colombard
Red wines:
Cabernet Sauvignon
Merlot
Ruby Cabernet
4.- Zacatecas
This state stands out for its important production of white grapes from the Altiplano Cachola wineries such as Chenin Blanc, Tramier, Málaga and French Colombard. As well as red grapes such as Ruby Cabernet and Petit Syrah. The main strains that are produced in Zacatecas are:
White wines:
French Colombard
Chenin blanc
Ugni blanc
Traminer
Málaga
Red wines:
Ruby Cabernet
Petite Syrah
5.- Sonora
The two viticulture regions in the state are Hermosillo and Caborca. In Sonora, since 1993, Casa Pedro Domecq plant has been located, which launched the Agro-industrial Sonora SA de CV project, for the production of industrial and table grapes.
In 2015, Uvas de Altura managed to produce a "high altitude" Sonoran wine, which they called "4S" (Cuatro Sierras) in honor of the location of its vineyards: an area surrounded by Sierra Los Ajos, ​​Sierra Mariquita, Sierra Vista and Sierra San José.
Giottonini Wines is the newest Sonoran wine cellar, owned by Francisco Giottonini.
6.- Durango
It is an important state in the wine industry due to its production of grapes for spirits, light-bodied youth, and dessert wines.
In Durango, 74.85% of the grapes are harvested to produce distillates, while the other 25.15% is for grapes to make wine. In terms of producing houses, the Compañía Vinícola del Vergel stands out, near Gómez Palacio, which products include brandies, young and dessert wines, as well as the Viña Santiago, the pride of the company.
7.- Coahuila
The dry and hot climate of this state are elements that create an ideal environment for certain types of vines such as Chardonnay, Semillon, and Colombard or Cabernet Sauvignon, Merlot, and Tempranillo. The main growing areas in Coahuila of Mexican wines are Parras, Arteaga, and Saltillo.
One of the main wine houses in the state is Casa Madero, the first wine country in America. We also find other important production houses such as Casa Ferriño and Vinícola Vitali.
Have you been to any of these Mexican wine regions or tried Mexican wines?
You could also read Flavors you can find in wine.