Discover the Yucatecan charm
Do not forget your camera!
Did you know that in Yucatan there are more than 100 municipalities? Now, imagine how many incredible places you can discover in one weekend. This state of Mexico is famous for its archaeological sites, haciendas, cenotes and its Pueblos Magicos: Valladolid and Izamal.
That is why we invite you to plan your next trip to discover all these unknown places, and we have selected a few of them to encourage you to explore them. 
Uayma
This small town located a few minutes from Valladolid hides one of the most iconic churches in Yucatan. Large rosettes and red walls with blue details are the main features of this church built in 1646. For many years this church remained in abandonment, until 2003 when it was restored, and the original stucco colors were discovered on the walls and facade.
Uayma is also known for its pottery and hammocks as well as its annual feast in honor of Santo Domingo held during the months of July and August.
Cuzamá
This small town near the City of Merida hides one of the most incredible tours for travelers in Mexico. Using an ancient Yucatecan transportation called Truk, it is how people travel for several kilometers through the jungle to discover three amazing Mayan cenotes: Bolonchojol, Chacsinicche, and Chelentun. Each of these cenotes is a unique experience due to its crystal clear waters and depths that are between 15 and 20 meters.
Read: The best 10 cenotes for cliff jumping in Mexico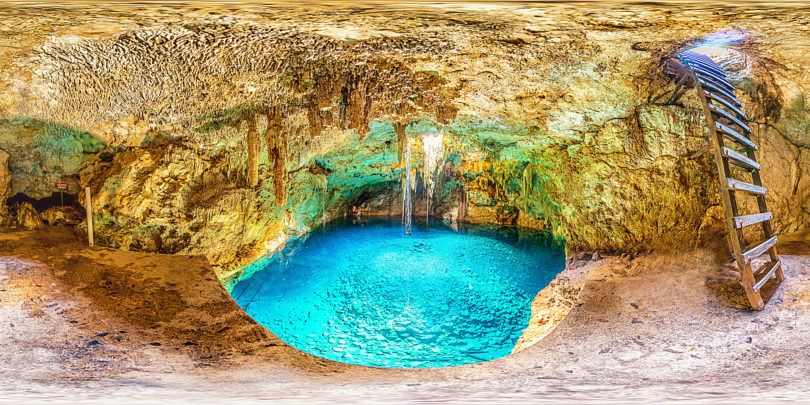 Ticul
This picturesque town of Yucatan is famous for having a large number of footwear and pottery workshops making it one of the most visited places by travelers. Here is where they can find an incredible souvenir of Yucatan to take home. Ticul has a privileged location in the famous Puuc Route that consists a trip across several archaeological sites such as Uxmal, Kabah, and Labna. The beautiful center is characterized by its intense red color as well as by its beautiful square guarded by Mayan deities.
Temozón
If there is a place in Yucatan that we have to recommend you to taste the Yucatecan gastronomy it would be this town on the road Valladolid – Tizimín. In this location, you can eat the best-smoked meat in Mexico and perhaps in the world, thanks to the traditional seasoning with which it is prepared.  In Temozón you can also visit one of the largest cenotes of the Yucatan Peninsula called Hubiku and the impressive Mayan city of Ek Balam.
Do you know more incredible towns in Yucatan? Share them in the comments