Effort, attention, and love
Taking care of the sea turtles
We are very passionate about the animals at Xcaret. We already told you some interesting facts about our macaws, and now we will do the same about the beloved sea turtles. They are critically endangered species, and for this reason, Xcaret Park in Riviera Maya takes very seriously their care and preservation: so much that they commit even with the turtles outside of their facilities.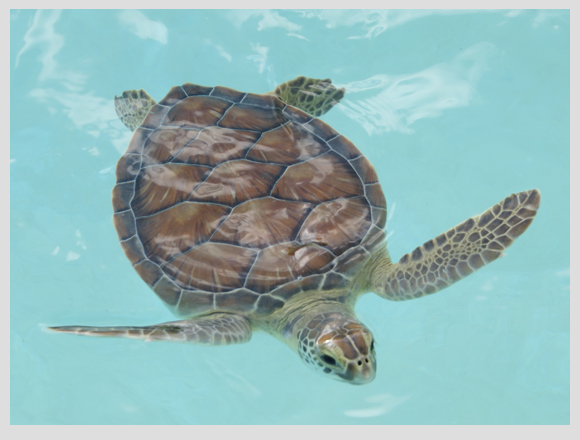 Xcaret Park is really proud of having a hospital specifically created for them: it's a unique facility in Mexico with international prestige. In 2010, they received permission by the Federal Office for Environmental Protection to rehabilitate, care, and liberate these lovely creatures.
"They are very demanding of health care, in comparison with other species… they don't give us true: we have to make periodic reviews of skin and weight, also frequent diet adjustments. Consumes a lot of time for everyone involved', says Ana Cecilia Negrete, Veterinarian, and Conservation Programs Chief. Currently, she has 200 specimens under her care.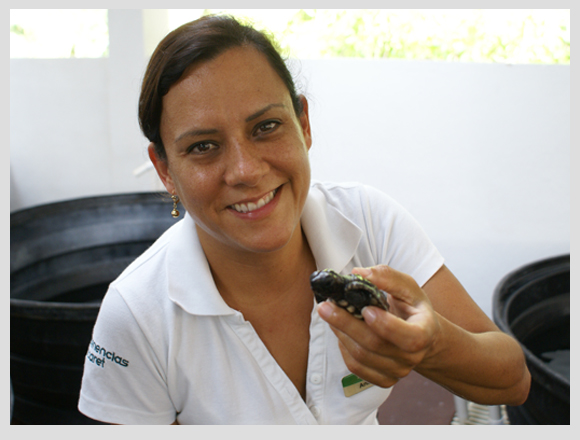 This department's daily task is the welfare of the turtles in the Park. For example, they treat common diseases such as ulcerative dermatitis, stomatitis, and rhinitis (skin, mouth, and nose infections, respectively). Likewise, the diet is special: fish gelatin enriched with vitamins and minerals for the young, and kibbles specifically made for the adults.
Ana explains to us that the two biggest challenges faced by her department are awareness-raising for the sea turtle conservation and their environment and care for the specimens who arrive injured at the hospital. The emergency calls can vary from a beached turtle to very serious medical emergencies like predator attacks or accidents with boats.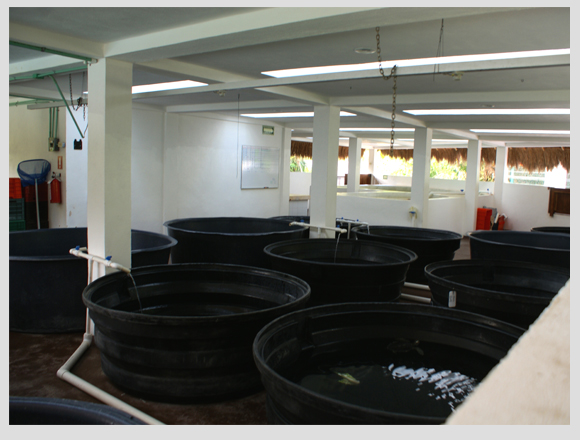 The injured organisms are received at the park and subjected to a primary evaluation and first aid. After stabilizing the animal, specific studies, such as X-Rays or blood samples, are made to reach a diagnosis. After the rehabilitation, the creature is marked and released.
Among the hardest cases are Esperanza (Hope) and Campechana. The first was attacked by dogs while she was trying to nest; she had such severe injuries, that her front fins had to be amputated. After almost eight years since her accident, Esperanza is still recovering at the Xcaret's hospital. Because of her condition, she will not be released.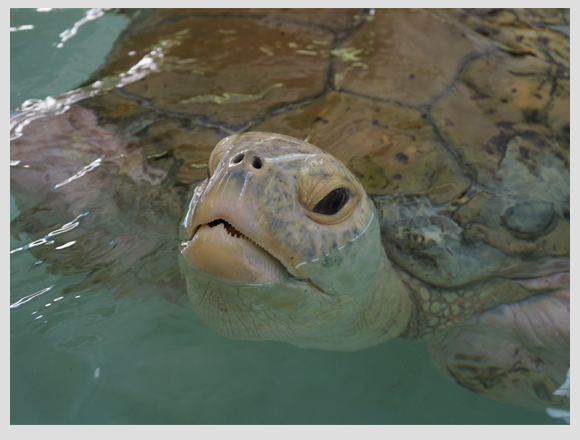 Campechana had an incident that led to an exposed skull fracture, letting her salt gland at risk. This organ filters the salt ingested by the turtles while they eat; if this gland fails, the specimen dies. She required honey applied on the wound to generate a fibrous tissue. "I thought she wouldn't recover; she also stopped eating for almost three months. We struggled over two years to rehabilitate and release her', explains Ana.
The healing processes can take months or even years: "We have seasons, where we don't release turtles because they are not healthy yet, or years, where we release over 20 animals', says Ana. Freedom comes when the specimen is perfectly healthy and can fend for itself. Subsequently, Xcaret notifies the federal authorities, who come to document the reinsertion.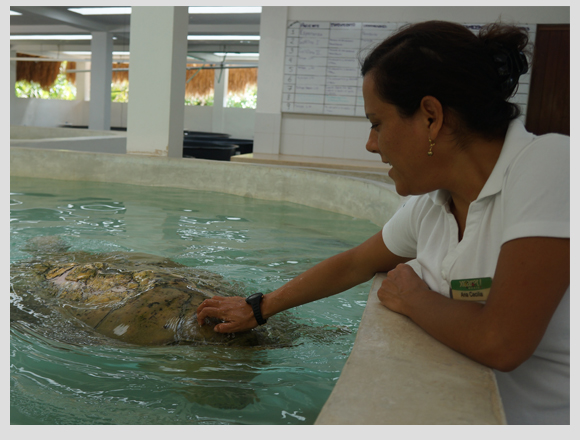 Ana Cecilia remembers the beginnings of the turtle hospital and tells us her feelings after 12 years working at Xcaret: "Much has changed. This is a victory that cost us nine years (…) we started from nothing, and now we are a giant (…) this is my home, my turtles are awesome and I have a very strong love for them. I started with this program and saw it grow. For me is the best'.
Did you ever imagine this kind of work from Xcaret? Did you know that thanks to your visit, Xcaret and the Organization Flora, Fauna and Culture of Mexico run the most important Sea Turtle Conservation Program in Mexico? This program has released over 7.5 million baby turtles during the last 25 years.
Visit the sea turtles in Xcaret during your next visit and learn more about this amazing species.