Discover adventure tourism in Cancun and Playa del Carmen
Outdoor fun and family-friendly activities for your next vacation
On your next visit to Cancun and Riviera Maya, enjoy family-friendly activities for your adventure vacation for the whole family. These destinations are known for their beautiful beaches and crystal-clear waters. However, there is also adventure tourism that you can experience when you come.
We know it can be tough to find fun, family-friendly activities that everyone in your group can enjoy. But if what you are looking for is to live new experiences and put your skills to the test, it's possible to do so by entertaining people of all ages.
If you're looking for adrenaline, here are 10 activities you can do on a family-friendly adventure vacation, you can do without excluding anyone.
1. Zip-lines
Zip lines are how we can fly and cross the sky while observing the beautiful landscape below. Even if you are afraid of heights, I can assure you that it is a safe option and has many shapes and sizes for everyone.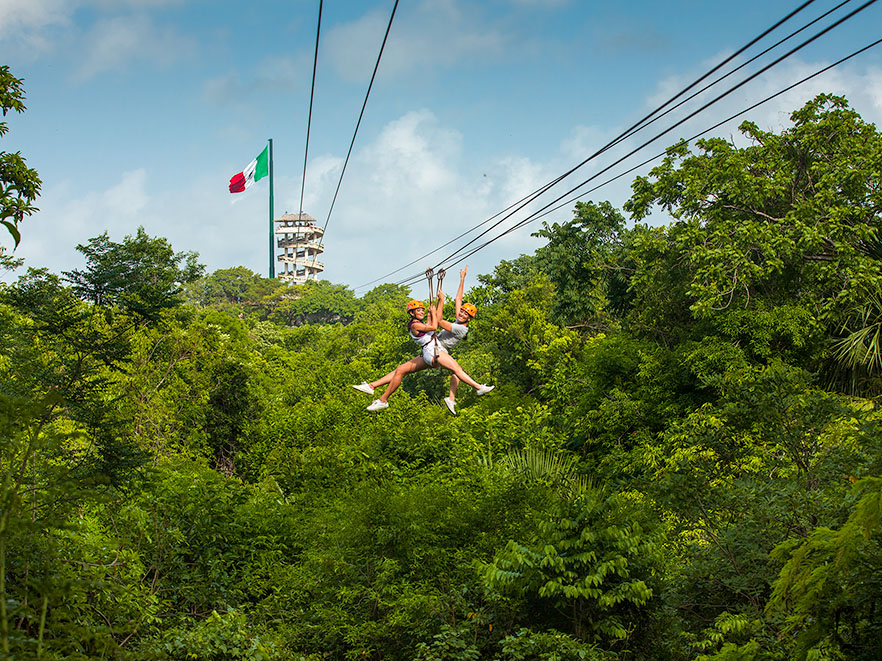 There are many places in Cancun and Riviera Maya where you can do zip lines, but some of them stand out for their uniqueness. For example, Xavage has a zip line where you can fly like a bird. It's a ride where you lie down and enjoy yourself with wide open arms.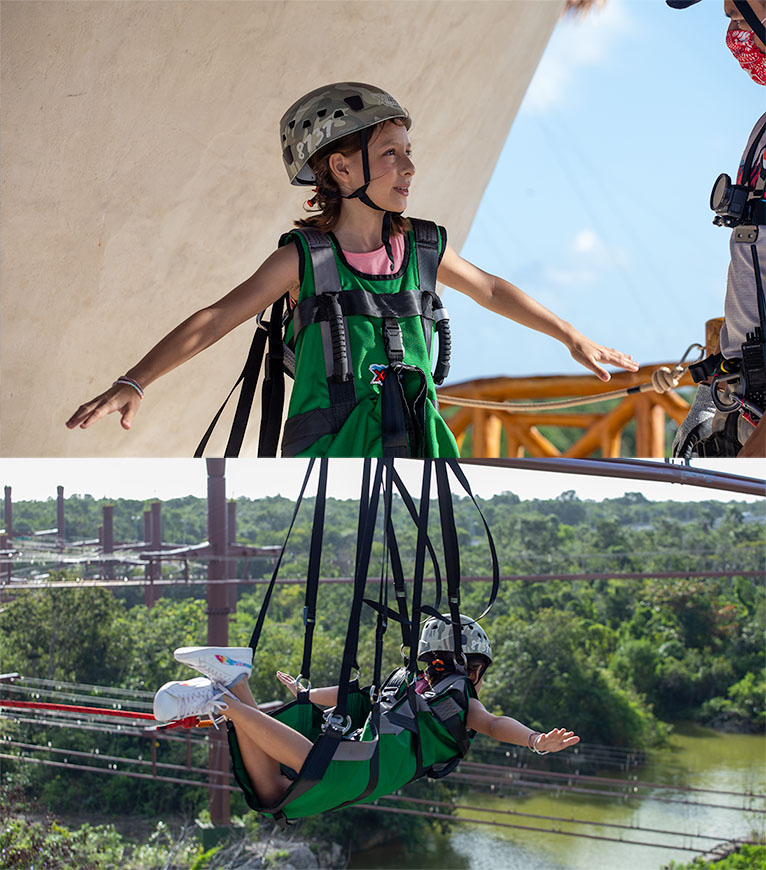 Another place to go is Xplor, where you can do the longest and highest zip-line circuit in Riviera Maya. There is even a 45-meters-high zip-line! Don't worry; there are lower zip lines and Hamacuatizaje, a zip line with a water landing in which you slide comfortably in a hammock.
If you want to check out other water zip-lines, there is also the option of a circuit in Xel-Há park that ends in fun water landings. Other rides that might interest you are the open-air zip lines in the Xenotes tour. In these, you can ride only holding the rope with your hands and let go at any time or sit on a swing to land in the ancient waters of a cenote.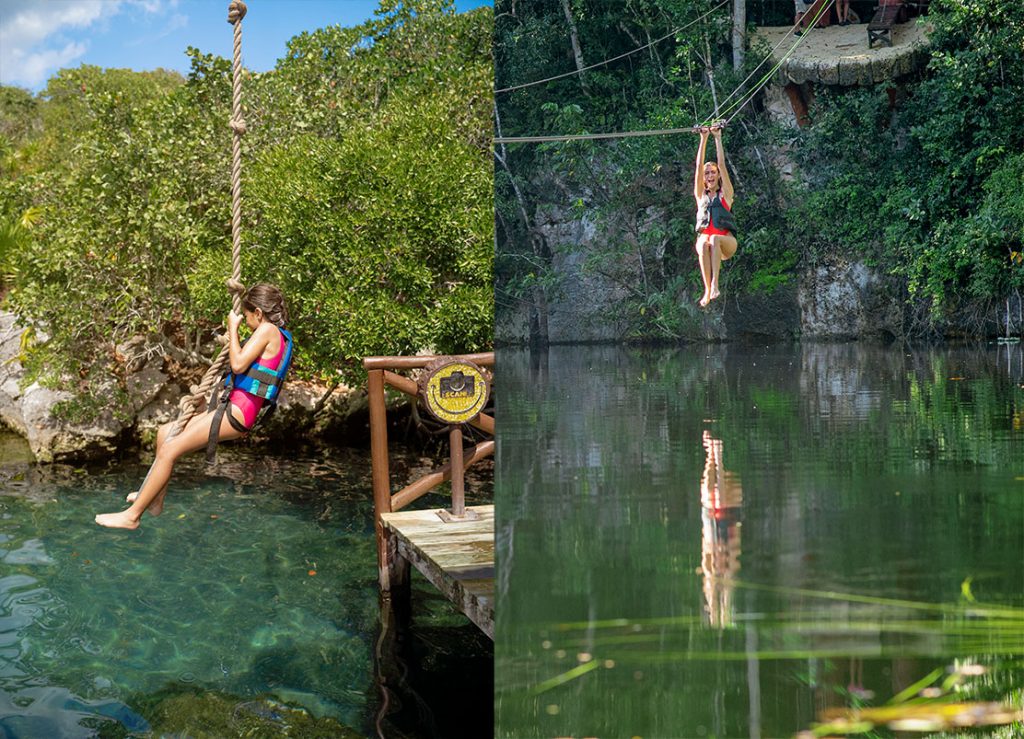 2. Jet Boat
One of the activities for your family-friendly adventure vacation is a ride in the jet boat. This very fast watercraft reaches up to 90 km/h and makes fun 360° turns. It is an activity designed for adrenaline lovers. Just hold on tight and get excited about this safe and fun ride. You can do this activity in Xavage, where one of their expert pilots will take you on the most entertaining ride you could ever imagine.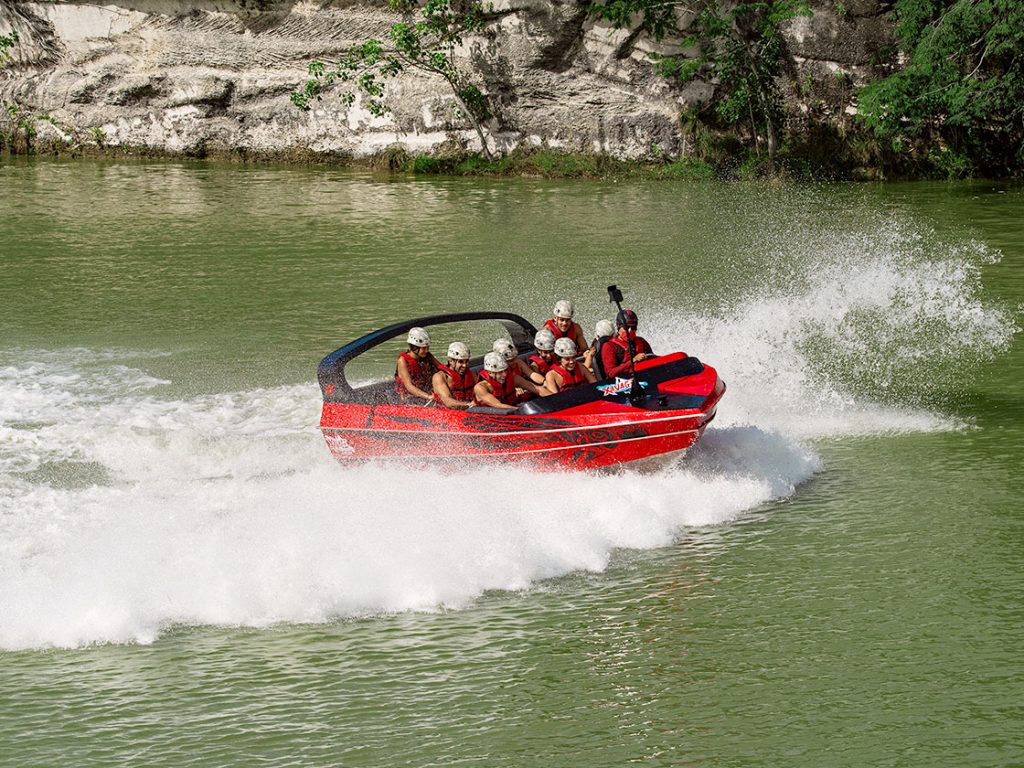 Other places where you can enjoy it are Xcaret and Xel-Há, where an expert captain will take you on a joyride where you will get wet from head to toe.
3. Kayak
If you're looking to embark on a journey with a boat, there is the option of a fun kayak. An activity in which you can paddle in the waters of canals and cenotes. Find the activity at Xavage, where adventure and relaxation are combined in the three paths you can take alone or with a companion on a double kayak.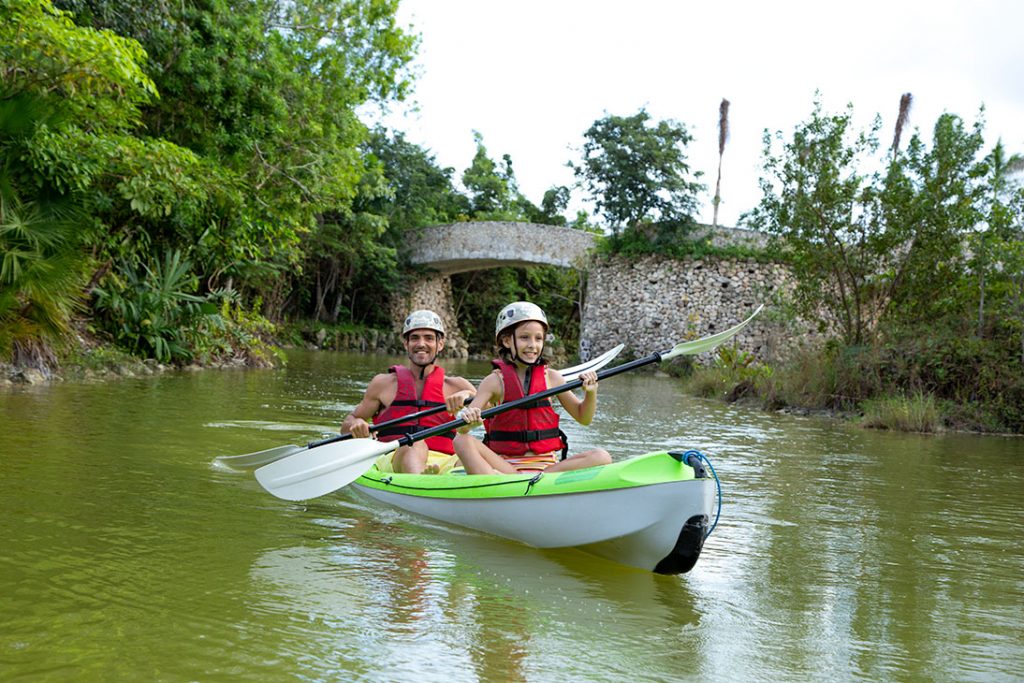 Xplor has something similar to a kayak in the stalactite river. The difference is that here, your hand will be the oars that push you forwards. You can also go individually or with a companion, but if you go with another person, try to coordinate; if not, your fun tour could be complicated.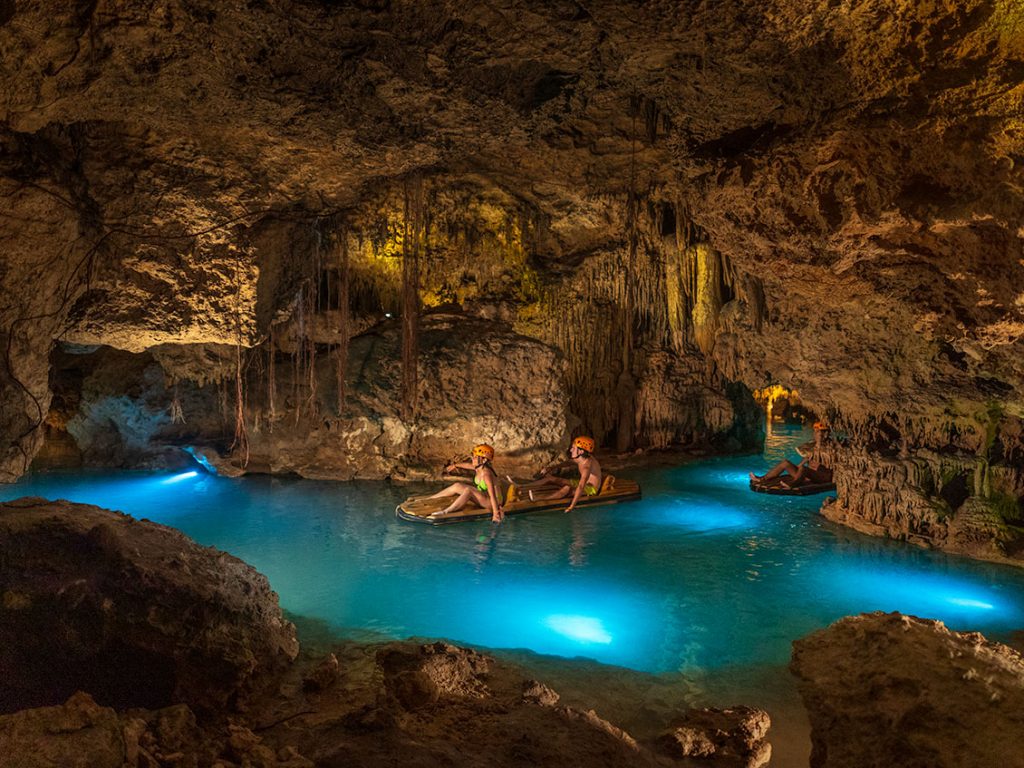 Other places where you can go kayaking are Nichupté lagoon in Cancun, where you can admire natural landscapes and the cenotes in our Xenotes tour.
4. ATV or all-terrain vehicle
Another adrenaline activity is the all-terrain vehicles, also referred to as ATVs. These vehicles travel over land and obstacles with their powerful wheels. Test your skill and dexterity with these adventure-filled rides.
Xavage has its powerful Monster Trucks. Drive on an obstacle course of logs, tires, ramps, steep slopes, and mud puddles. Nothing can stop you on this unforgettable journey.
Another place where you can have fun doing this activity is Xplor, with its Amphibious Vehicles. On this ride, you will find flooded caverns, rocky paths, and suspension bridges. Remember to fasten your seatbelt and enjoy the adventure.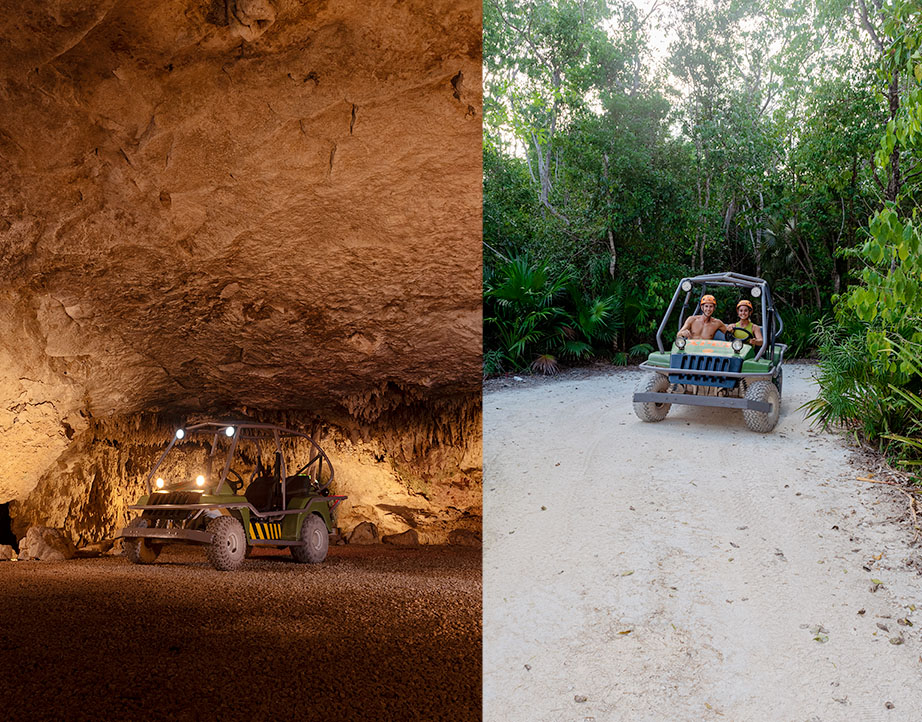 5. Underground rivers
Another adventure that you can enjoy during your visit to Riviera Maya is swimming in underground rivers. This is a natural attraction that you have to experience since the Yucatán Peninsula has the largest network of underground rivers in the world.
Xplor is one of the best spots to enjoy, with two underground swimming circuits in the cold waters full of stalactites and stalagmites. You can also have fun in the Underground Expedition, where your adventure will be through challenging passageways and obstacles in the water.
You can also do this activity in the underground rivers of Xcaret, where you can swim among caves, rock formations, and marine fossils. Another place is Xel-Há, where you can move through the mangroves in the water and enjoy the flora and fauna of the region.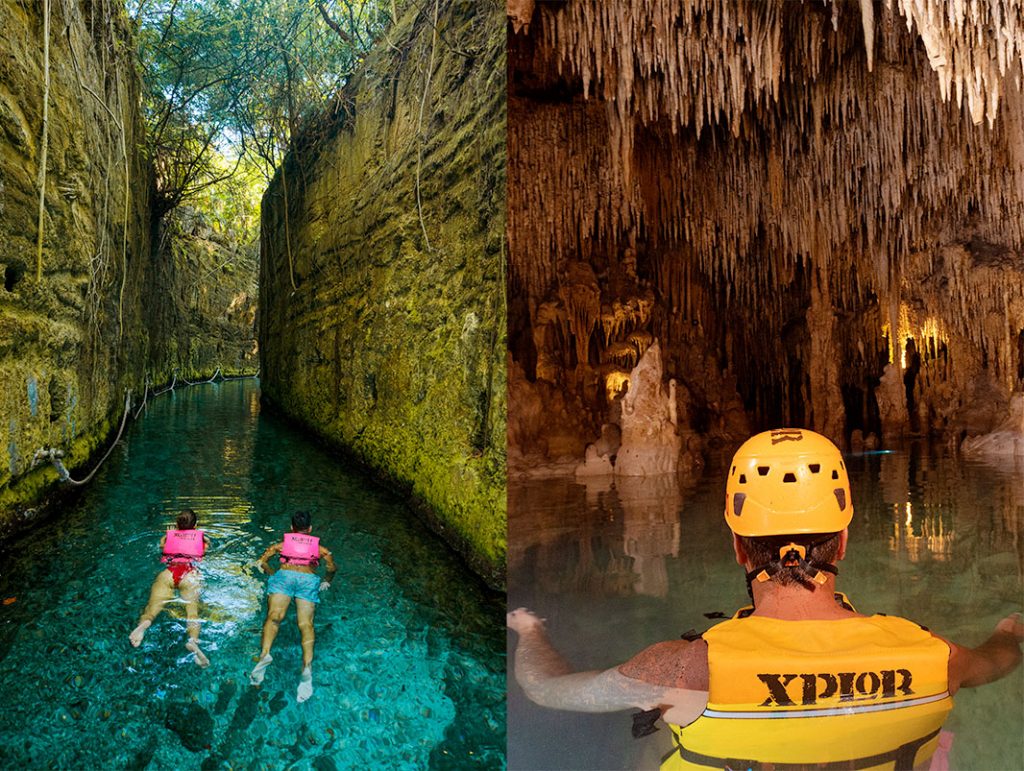 6. Rope Course
If you want to live a true adventure in the heights, we recommend Xavage's Ropes Course. Here, your skills will be tested as you pass obstacles suspended in the air at different levels, from 8 meters to 36 meters high. Try this new experience and have fun at the top!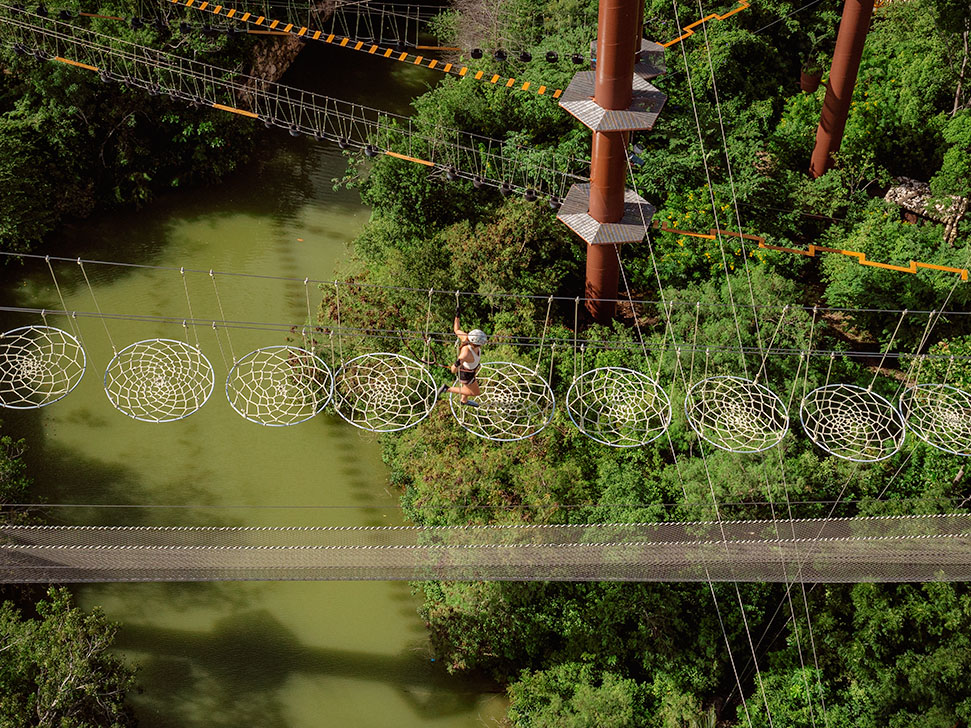 7. Snorkel or scuba diving
If you want to live an underwater adventure and take advantage of the Caribbean Sea, exploring its depths through snorkeling or scuba diving is something you cannot miss out on. Enjoy at Xcaret, where you can snorkel among diverse and colorful corals at an additional cost.
You can also snorkel in Xel-Há, where you can find more than 90 marine species in the cove. Another additional activity you can find is Sea Trek, where you will experience walking on the seabed surrounded by beautiful underwater creatures.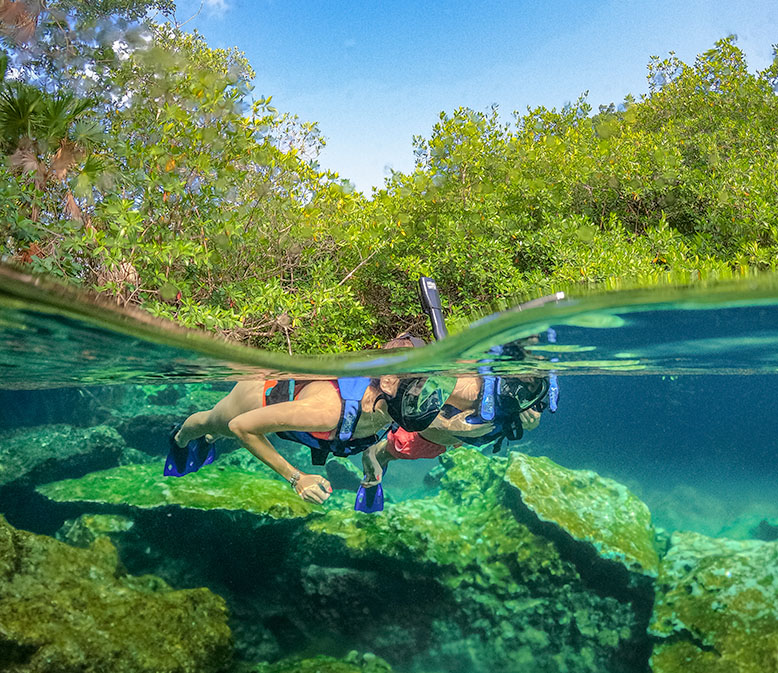 Other places where you can snorkel or dive are the beautiful beaches of Isla Mujeres. You can also venture to the paradisiacal island of Cozumel to carry out these activities or to the Yal-Kú inlet, where you can swim and explore its crystal clear waters.
8. Rafting
Rafting is a recreational and sports activity that consists of descending whitewater rapids. You can enjoy this unique and fun experience at Xavage. These category three rivers are the only ones in the entire Yucatán Peninsula. The ride will be an adrenaline-filled experience falling from waterfalls of up to two meters and going through fast currents.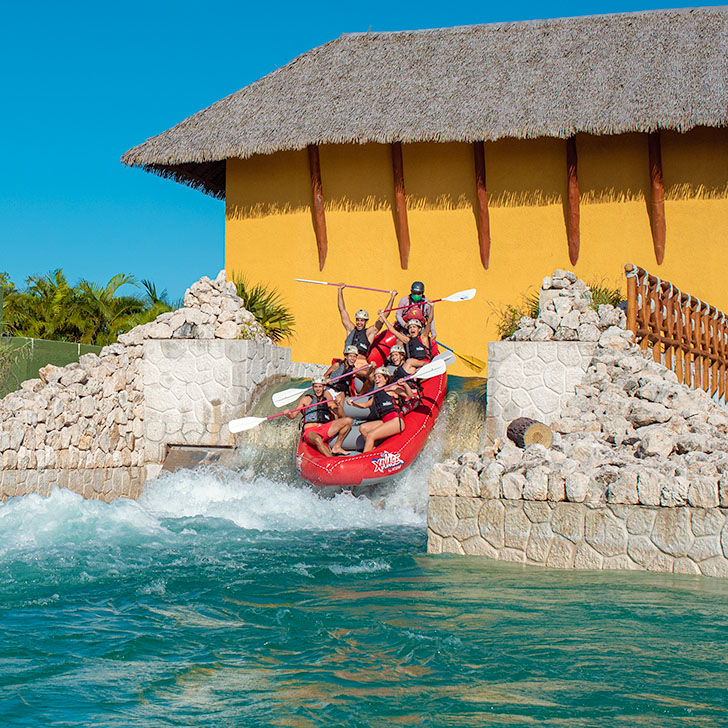 9. Water slides
Another of the activities for your family-friendly adventure vacation is sliding in the water. Water slides are fun for everyone because they come in all shapes and sizes. You can find these in Xel-Há, where there is currently a sizeable 40-meter-high waterslide. In this Scenic Lighthouse, you can enjoy the view of the Caribbean Sea and then descend on an adrenaline ride until you fall into a pool of crystal-clear waters.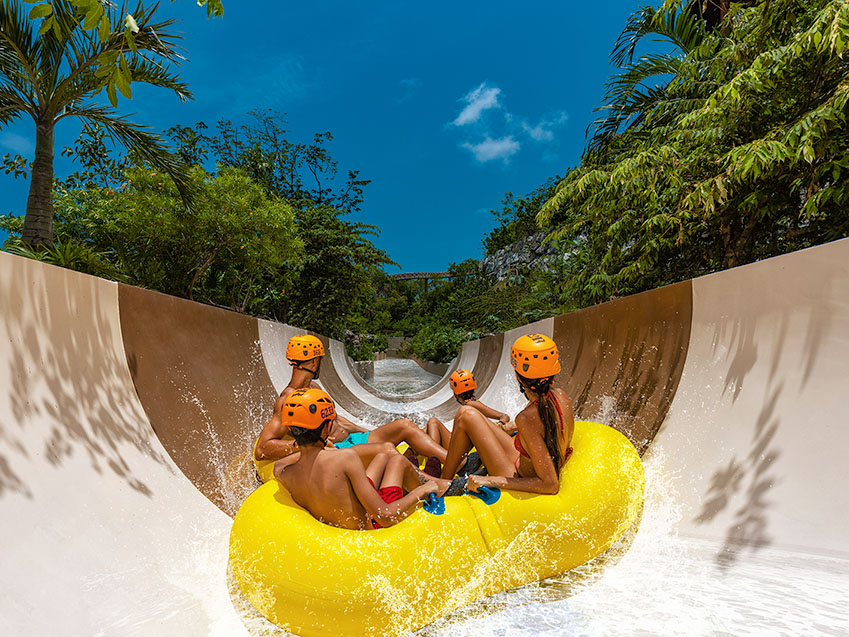 10. Parasailing
Enjoy an adventure up in the sky with Xcaret's Paraxute. Here, you'll fly over the crystal clear waters of the Mexican Caribbean and enjoy the landscape of the Riviera from 200-meter high.
Another place where you can live this adventure is on the various beaches of Cancun, such as Playa Tortugas. Here, you will have a view of the blue sea and the beautiful beaches that this paradisiacal tourist destination offers.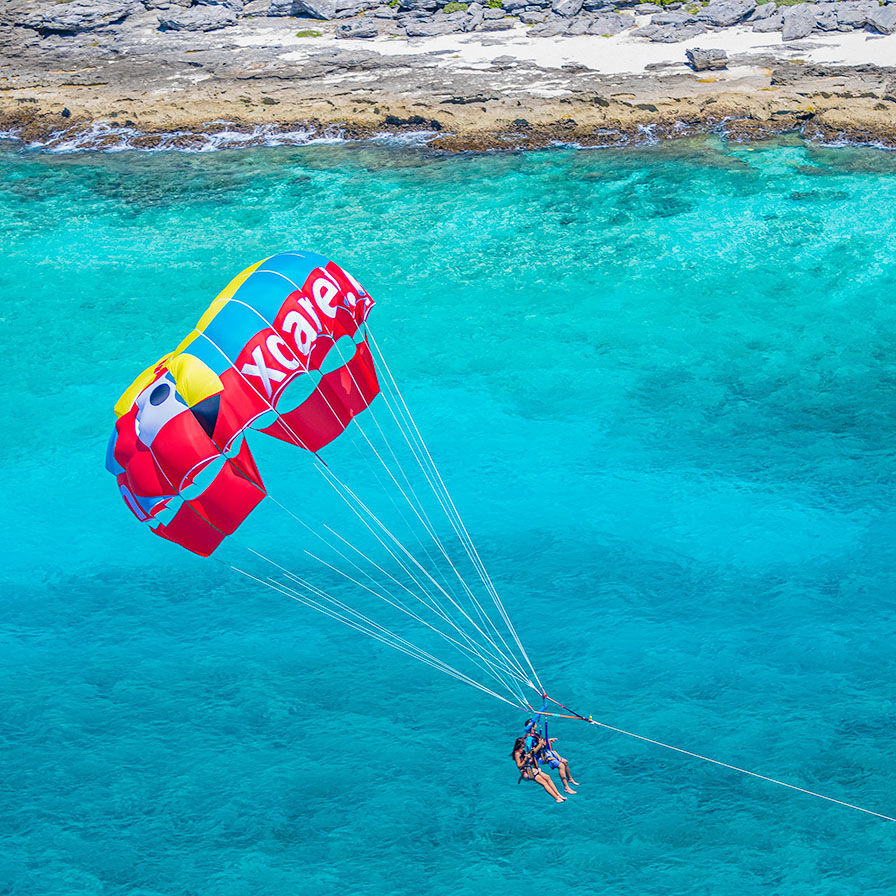 Now you know that Riviera Maya and Cancun have amazing activities for your family-friendly adventure vacations. If you are looking for adrenaline that is suitable for all ages, go ahead and try one of these experiences!
We also recommend: THE PLACE WHERE YOU TOO CAN DO ADVENTURE ACTIVITIES
Have you already done any of these adventure activities with your family?