Do's & Don'ts of a good frequent flyer
Take note and enjoy the flight
The days before you start a new journey are filled with all kinds of emotions. Some positive as joy and enthusiasm, while others not so much as restlessness and anxiety. The latter is typical, but not necessarily bad, as they alert us so that we don't forget anything and take the necessary precautions. I'll share with you my main recommendations to make every trip a great experience. Here are 6 basic travel tips that never fail.
1.- Your luggage
It may seem obvious, but there are certain things that we forget about when packing. Had we considered them previously, it would have been a lot easier for us. That's why one of our first basic travel tips is to take into account how long your trip will last and the type of activities you will do. This will determine not only the load but also the type of outfits.
Will you need shoes that take up a lot of space like snow boots or tennis shoes for exercising?
Will you be going up a mountain where you will take your climbing gear, or will you only need your bathing suit for endless warm days in front of the sea?
Depending on this, you can define if you will need to check luggage or if the 10 kg allowed as your carry-on is enough.
Whatever the case, it never hurts to know how to save up space inside your luggage. Take advantage of the different compartments and separate your stuff into sections. This will prevent your shoes from dirtying your clothes or wrinkles easily to suffer during your travel.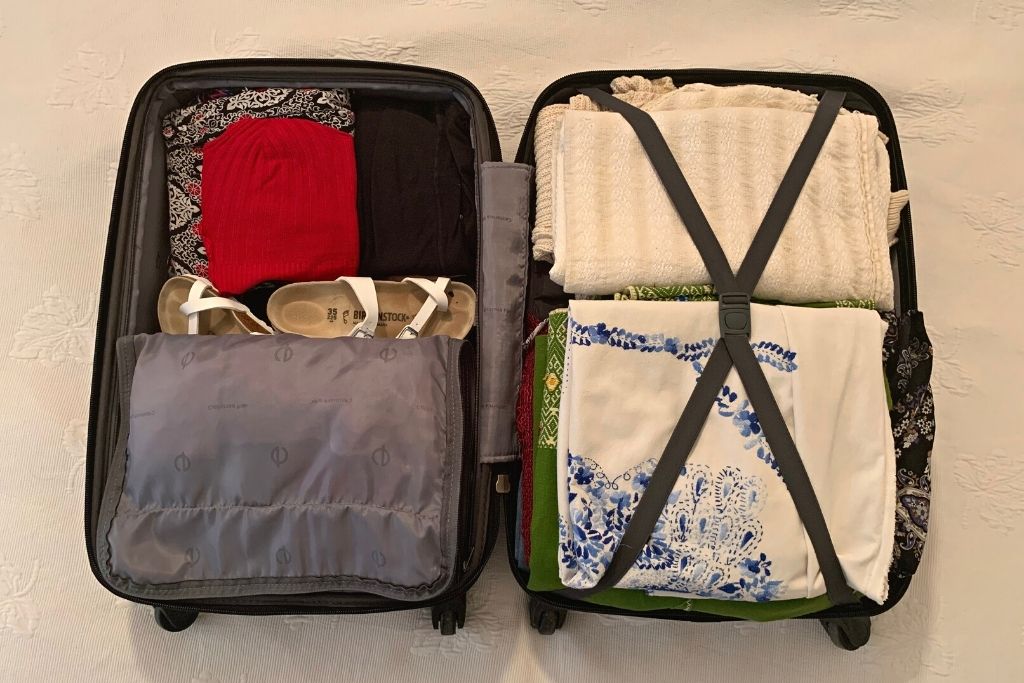 If you opt only for carry-on luggage, consider the following. Many airlines allow you two carry-on bags and a personal bag. This means that you can take advantage of more space and still comply with the requirements of your trip and the rules of the airline.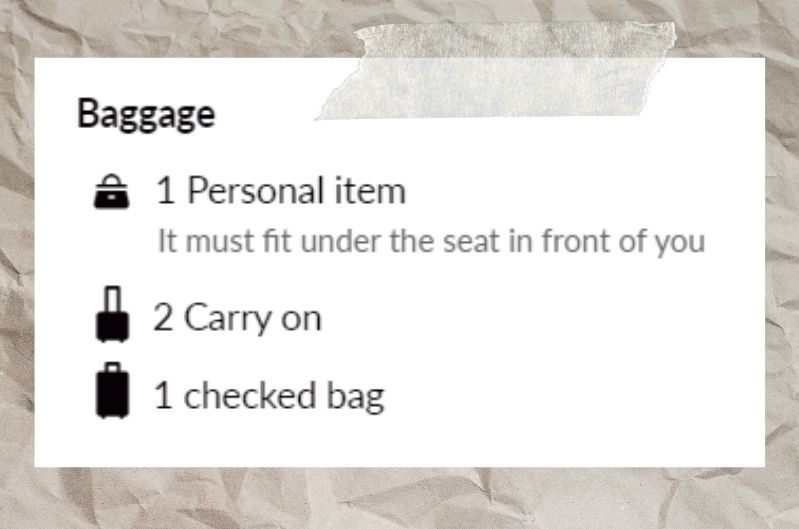 Additional tip: Mark your luggage with something eye-catching that helps you recognize it among the rest. It can be something improvised like a bow, a stamp, or a very particular padlock. However, you can choose something specifically for that purpose. In many stores, they sell information tags for suitcases that are striking enough and will also have space for you to put your information in case it gets lost.
2.- Essentials for carry-on luggage
If you have traveled by plane before you should already know the golden rules:
Don't exceed the measurements and the weight of carry-on luggage allowed
Avoid carrying sharp objects
Don't carry liquids that exceed 10 ml
Very well, since we remove from the list what we CAN NOT carry, we can focus on what is allowed. Whenever you travel, you will be recommended to:
Bring valuables such as electronics, watches or jewelry with you, as many airlines are not responsible for items lost during the baggage handling process. Better take them with you and don't lose sight of them.
In addition to that, you will need to:
Carry the necessary documentation specific to your flight, ID, cash and cards.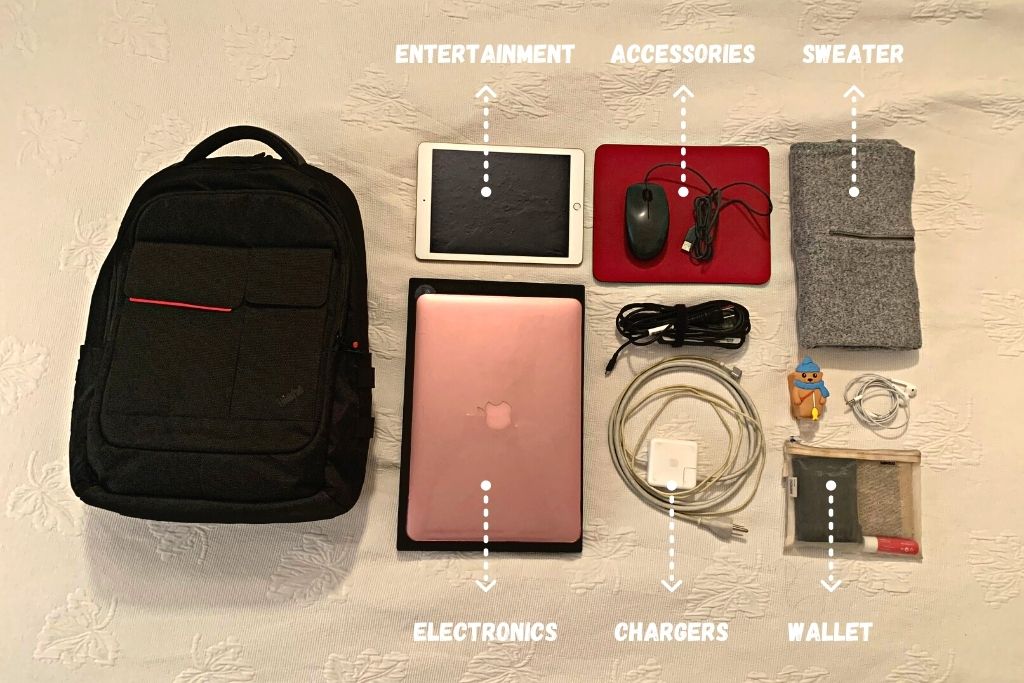 One of my main basic travel tips is that you keep these kinds of things together. Either within the same compartment on your backpack or that you get a small special bag for it. You can get different designs and sizes, choose the one that best suits your needs, but at the same time provides you easy access.
On the other hand, we must consider that nowadays it's very common for us to travel with our electronic devices such as computers or tablets, either for personal use or for work purposes. In addition, on practically all flights you can make use of them on board the plane in case you want to listen to music, watch a movie, read or even work (but please take a break, workaholic).
My recommendation is that, if possible, lighten the load of these types of objects. That is, use only one for different functions, because when going through the security filter, most likely they will ask you not only to remove them from your backpack, but also to place only one per tray.
I learned this the hard way by traveling with two computers and a tablet. Every time I go through the security band, I have to take them out, separate them and then put them back one by one. If you don't have it any other way like me, you'll have to get used to it, but if you can save space and use just one for different things, I recommend it!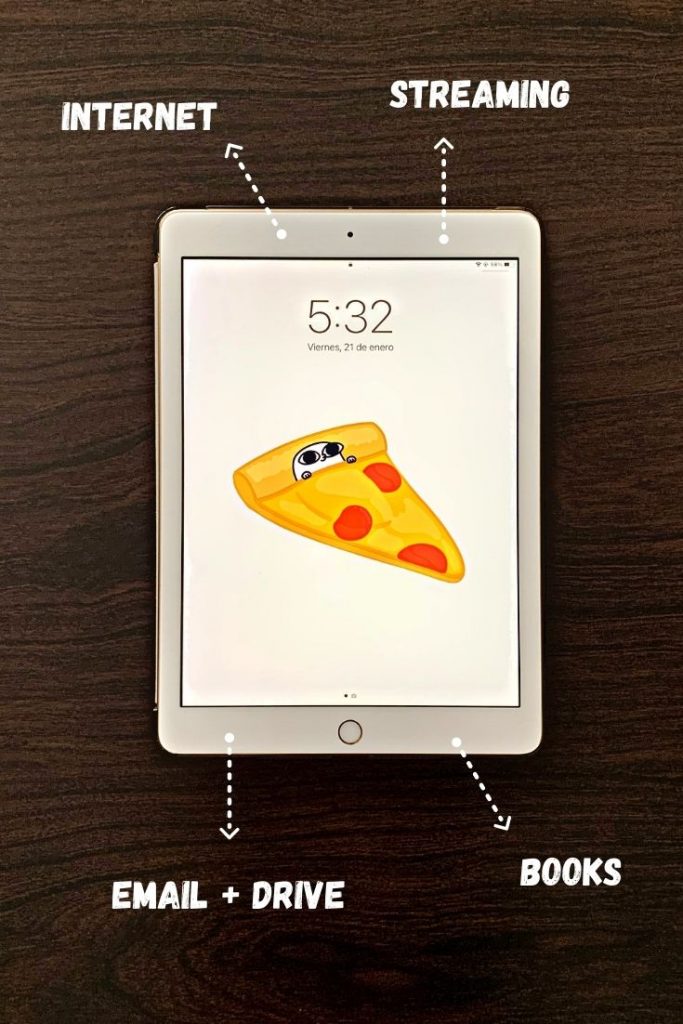 Regardless of what you have decided to put inside your carry-on bag, take the following into account. Although inside the plane you will have storage space above your seat, carrying a backpack that fits under it will give you better access to anything you may need without disturbing those around you. This is one of the basic travel tips that work best for those who check luggage, leaving clothes and shoes in the main suitcase and only those essential and valuable on hand. Therefore, opt for something smaller and more comfortable to take with you inside the passenger cabin.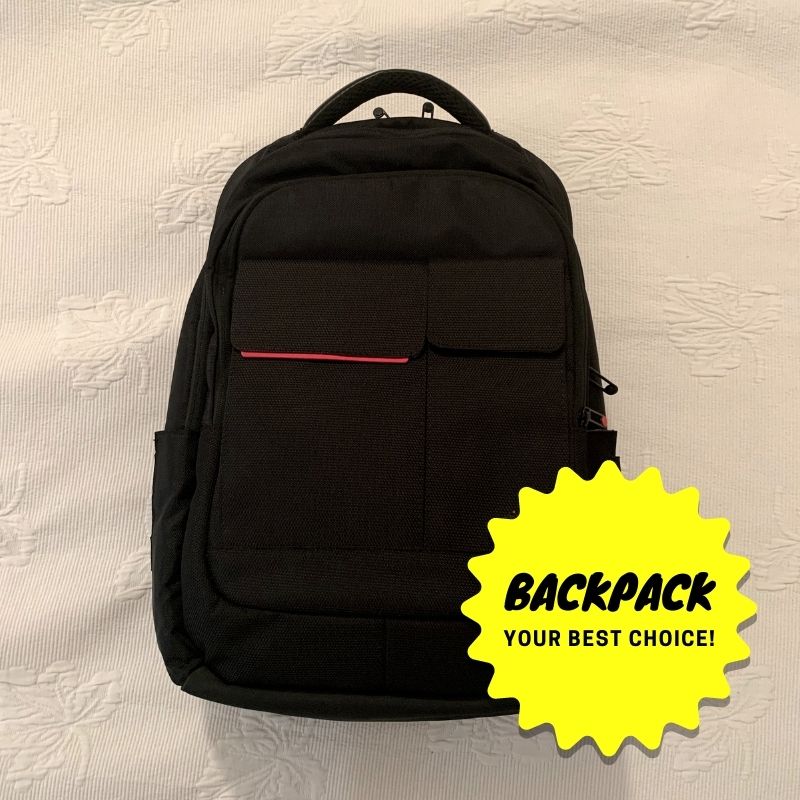 3.- Important documents
Leaving aside the basic ones, such as official ID and passport (depending on the type of flight), you may wonder what other things they will ask you when traveling. Like it or not, the times, as well as the rules of the game, change almost daily. It will not do us any good for me to give you a list of documents, as these tend to change according to the global situation, the place to and from where you travel, or even due to things established by each airline. Another one of these basic travel tips is that you always look for this information well in advance before the day of your trip.
Once the reservation is confirmed, the airlines usually send you what they need by email, but it never hurts to do a double-check. Also, check if they are documents that you can show from your cell phone or if it will be necessary to take them printed. My recommendation will always be that, if it's not specifically written that it can be presented in digital format, you take it in print. You don't want to find yourself in a situation where you must pay extra, or that your trip gets postponed just because you didn't know that some of the documents were required printed.
4.- Waiting time at the airport
If you are the cautious type like me, you are the type who arrives 2 hours in advance for domestic flights and 3 hours in advance for international flights. The advantage is not only that you will have time in case of any emergency, but it will also be very likely that you will wait less in line and end up with plenty of time to spare at the airport until you have to report to your flight's waiting room.
Even though airports are full of stores and restaurants to waste your time in, you don't always want to, or you don't want to be tempted to spend on them. Therefore, I always carry a bit of entertainment with me. What do you like to do in your free time? Do you read, watch streaming platforms, play video games, do crosswords or other types of word puzzles? Choose those that you enjoy the most and that you can transport inside your carry-on luggage (please don't show up with a set of Legos with you). In my case, I take an iPad where I previously download episodes of the series that I am watching at the moment. I also have a wide collection of digital books to choose from. Believe me, I rarely get bored waiting for my flight to depart.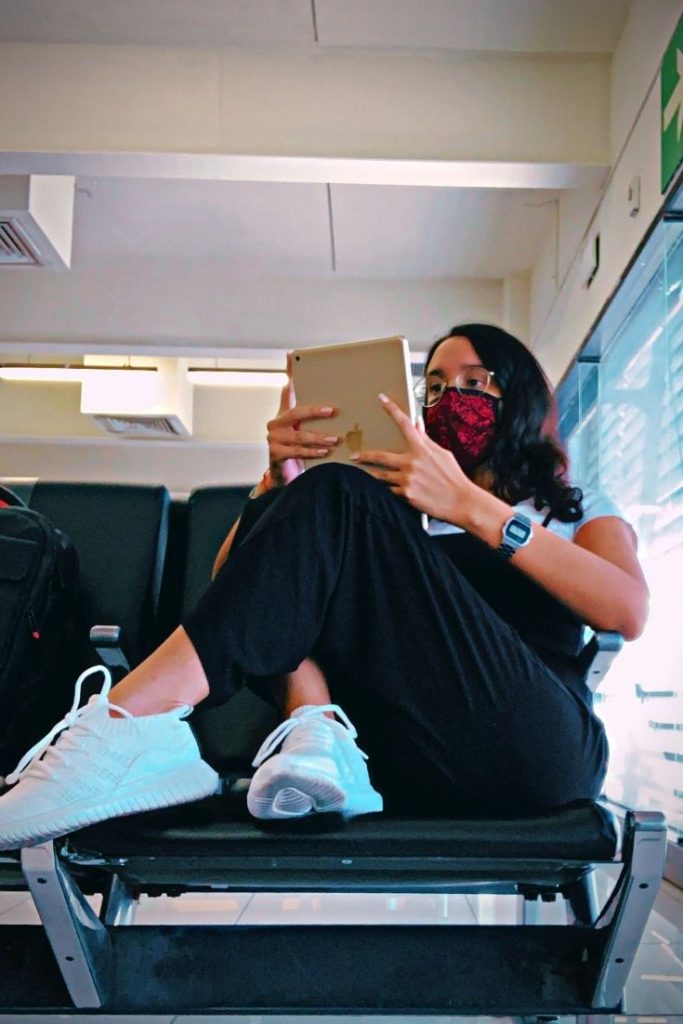 Regardless of how you decide to wait it out, I recommend settling down near one of the information screens. Those big ones where the information of all the flights is shown. If you stay close to one, you can be aware of the assigned waiting room, if it's already boarding or if something unforeseen has arisen and it's delayed. In this way, you won't have to constantly move from one place to another just to view that information. All you have to do is turn your head to look.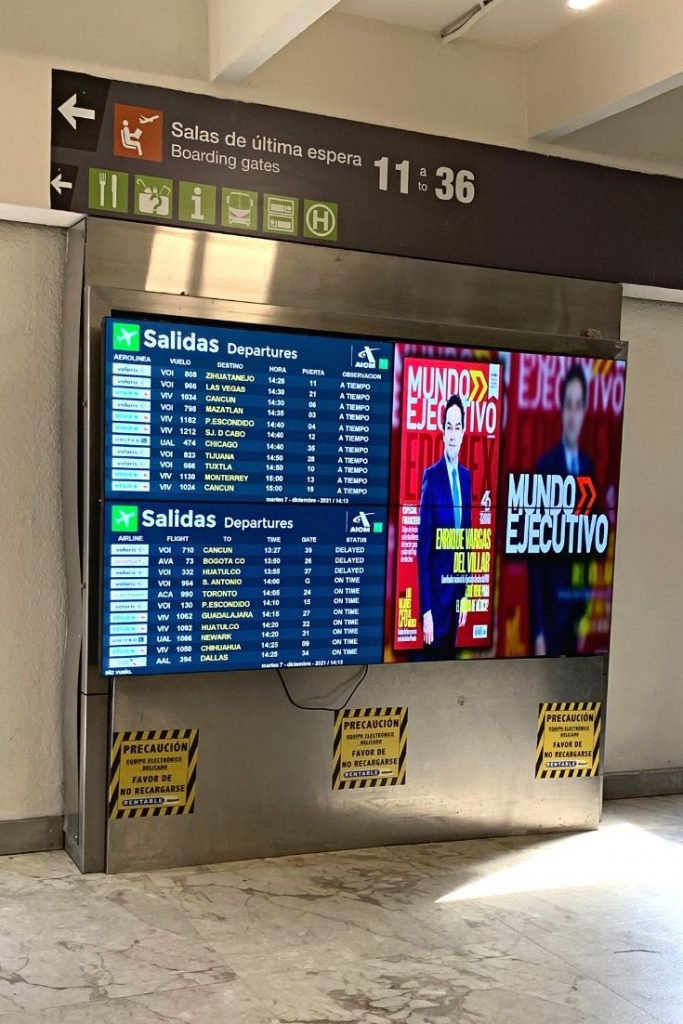 5.- Boarding and disembarking the plane
First of all, I need to mention the following. I'm even asking you as a personal favor. When you board the plane, wait for your turn! All airlines separate groups according to the number of your seat so that the boarding process is done in an orderly fashion to avoid crowds. However, beyond helping the airline, what's the use of standing for 20 minutes or more waiting to get on a plane that won't leave without you? Stay seated until they call your boarding group, and you will be much more comfortable.
I am one of those who choose their seat when booking a flight. Some airlines charge extra for letting you choose, while others don't. If you are indifferent about it, let the airline choose for you, but many people prefer to sit by the window to admire the clouds in the sky, while others prefer to have easy access to the bathroom. What is important is that you always make sure you have an assigned seat number to avoid problems once the day of your trip arrives.
As with the boarding, I repeat my advice for disembarking. WAIT FOR YOUR TURN! Nowadays it is very common to be called to disembark by a number of rows. However, if this is not the case, wait in your seat until the aisle clears a bit rather than bumping into others trying to get out as well. Also, spoiler alert: You will still have to wait for your suitcase to be transported from the plane to the baggage claim strip. Waiting for a few minutes sitting down won't be the end of the world.
6.- Arrival at your destination
You have already arrived at the airport of your destination; do you know how you will get out of it? Will someone pick you up or do you need transportation? Does your accommodation include this service, or do you have to book it separately? Regardless of the case, it is better to define it in advance. Coordinate your arrival time with whoever is going to pick you up or do research on what transportation options the airport offers you. Sometimes you might even consider options you find in your city of origin. However, make sure these options also exist at your destination (not all have Uber or similar available). Check prices and compare, read reviews of other users and make sure that the decision you are making makes you feel comfortable. You don't want to start your journey on the wrong foot!
After giving you my basic travel tips from start to finish I feel comfortable knowing that you are ready for anything. A trip is always exciting, but the day of the flight does not have to be a reason to get nervous. There is no better way to avoid it than by being well prepared. I hope my advice has helped you and that you enjoy your next trip to the fullest.
Reading about these basic travel tips awaken your desire to look for a new destination? Read: 30 top-rated places to visit in Mexico
Do you have any basic travel tips to add to my frequent traveler guide? Leave them in the comments, I'm always willing to learn more!