What The Locals Eat In Mexico
If you thought Mexican food had to be very elaborated and complex, you are up for a surprise. One of the things we love most about our Mexico, is the food that we can easily find in the streets. Read on to learn more about 12 Mexican foods you must try when you visit Quintana Roo, and become an expert in finding them.
1.- Torta de Cochinita Pibil
Cochinita Pibil (koh-chee-knee-tah pee-beel) is slow roasted pork plate from the Yucatan peninsula. Traditionally suckling pig meat is used, hence the name of Cochinita – tiny pig. You'll easily find it in tacos or tortas in Quintana Roo. We recommend trying the Torta de Cochinita Pibil in the Tlachco Theatre at Xcaret.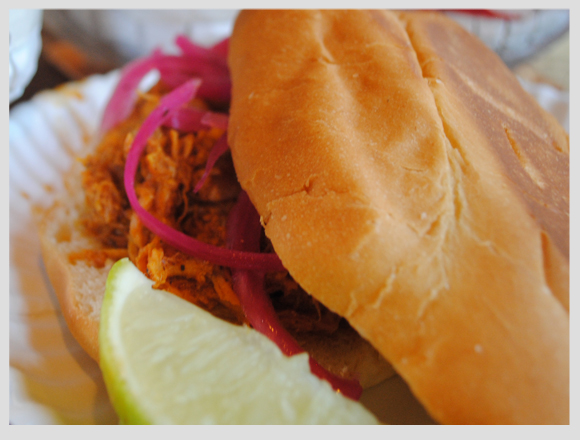 2.- Tamales torteados
There are different kinds of tamales: the commonly known as Mexico City Tamales and the Oaxaqueños. When in Quintana Roo, ask for a "tamal torteado de pollo": a soft tamal with chicken and red sauce. Every night many small street stands are set, mostly in places where the locals go, close to supermarkets or downtown plazas.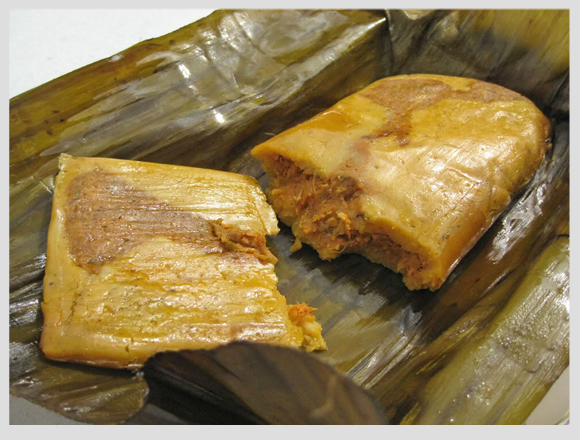 3.- Machacados
Different from what it means in the north of Mexico, in Quintana Roo the Machacado (crushed in English) is a refreshing beverage enjoyed mostly as a dessert. It is a frozen drink with crushed fruit of your choice mixed with condensed milk and shaved ice. Though you can find these in Cozumel, Playa del Carmen and Cancun, the best place to try them is in Parque del Queso in Chetumal City: the place where they were originated.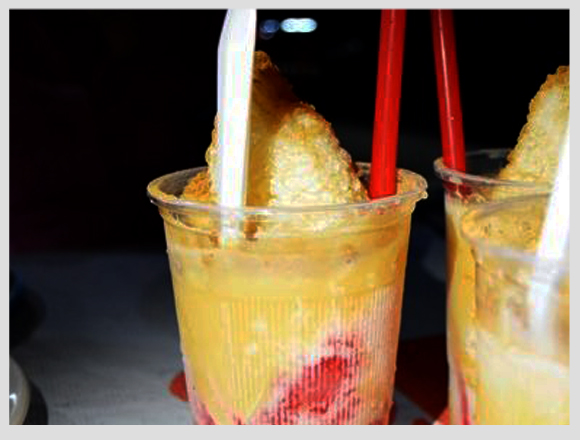 4.- Salbutes
These delicious antojitos, sold in markets and street stands, are small, thick tortillas with a variety of toppings, including the local versions of moles (chocolate sauce), made with ground spice mixtures called recados. The most popular topping of all is shredded, cooked turkey or chicken. Look for restaurants with Yucatecan food or small street stands in the urban side of the cities.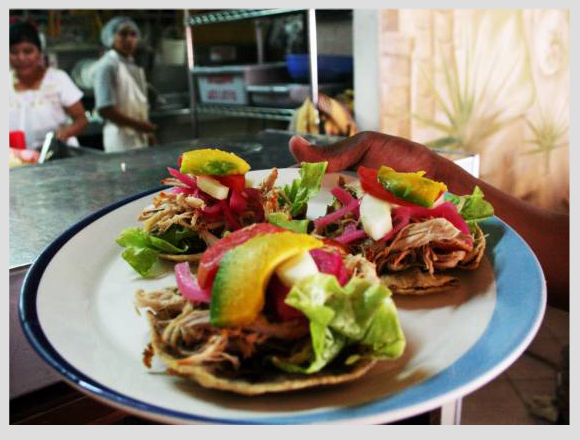 This might help you if you're visiting for the first time: Words you need to know to survive in Mexico
5.- Ceviche
Ceviche is a very popular dish in the tropical areas. It looks like a fish salad cooked in lime juice, but it can be cooked with many different ingredients. The best tip we can give you to where to find good Ceviche is: go to restaurants next to the beach. Not only it assures the fish is fresh, but the feeling and vibes of the sea will make you enjoy it even more.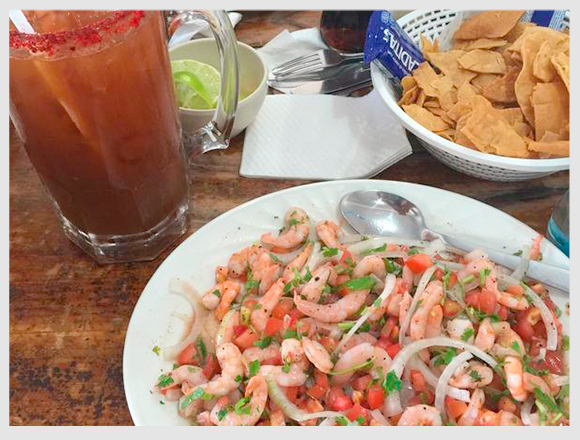 6.- Kibis
When on the beach, look for the people walking around with a glass box perched on their heads and shouting their singsong proclamation of "kibis… kibis!" Kibis are made with mashed wheat and ground beef or pork and seasoned with some spearmint, garlic, and onion. They are more like a snack, but if you eat two or three we assure you'll be fully satisfied.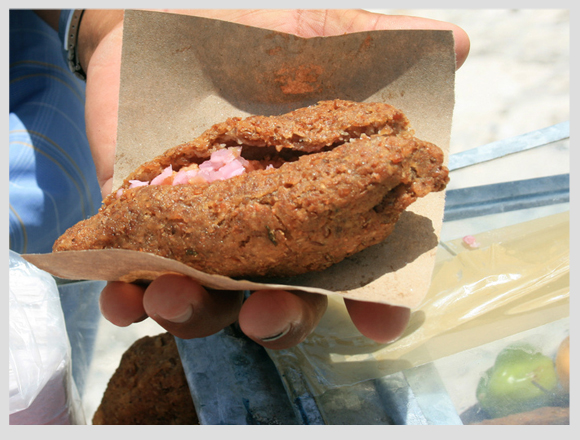 7.- Tacos al Pastor
Of course every visitor has to try tacos in Mexico, it's a must, but the ones we recommend the most are the Tacos al Pastor. How to identify them? They are crisp-thin shavings of vertical spit-roasted pork, marinated with guajillo chiles and achiote, piled on double corn tortilla and topped with chopped onion, pineapple and cilantro. The meat is cooked in a Trompo de Pastor: Trompo is the Spanish word for the child's toy Americans call a spinning top. In the parlance of taquerias, a trompo is a stout metal skewer loaded up with strips of marinated pork cut in a rounded shape.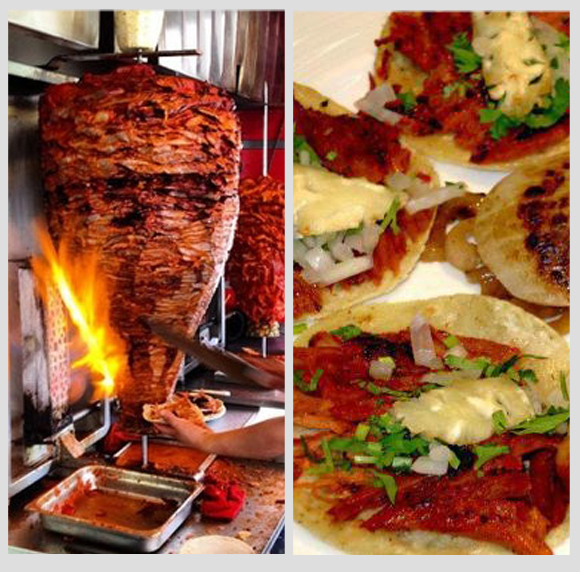 Read this if you're visiting Cancún: 7 Local places to go in Cancun
8.- Marquesitas
Marquesitas are a crispy crepe rolled up and traditionally filled with melted shredded cheese and a sweet filling of your choice. These bittersweet desserts are only popular in the Yucatan Peninsula and can be found in almost every main street: look for small carts with a big sign that says "Marquesitas". Watching them as they are made is part of the fun of getting one.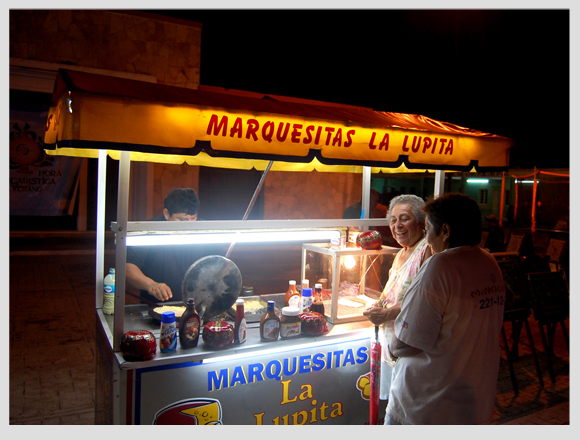 9.- Empanadas
In Mexico we eat empanadas all the time, we even prepare them at home for no special reason. They are baked or fried turnovers that are made with pastry dough and stuffed with endless combinations of meat and/or vegetables or fruit, empanadas are usually shaped like half-moons and range in size from bite-sized to family-sized. Our recommendation: go to Parque de las Palapas in Cancun and try the empanadas of Don Javier.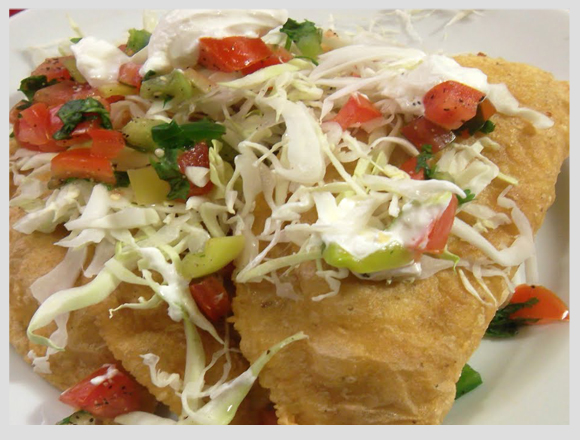 10.- Elotes and Esquites
Corn in Mexico is commonly found in two forms: elote and esquites. Both are delicious and you can always find them in the same place: street carts. Esquites are cups of kernels and fresh ears covered in butter, lime juice, chile powder, cheese, and mayo too. Elote is a straight-up corn on the cob, slathered in assorted dressings: the messier, the better.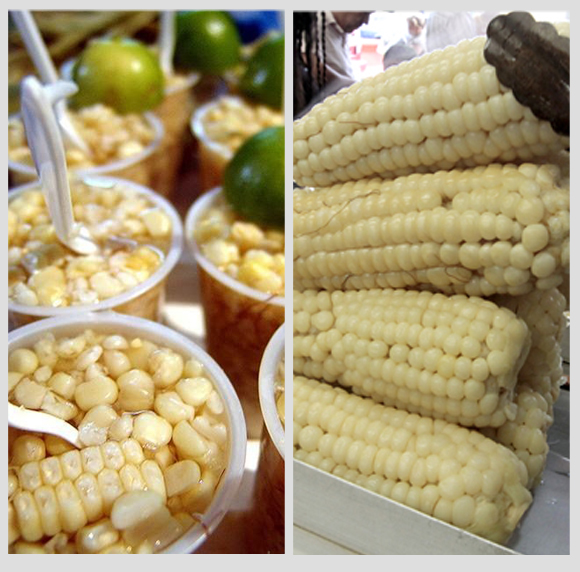 Looking for more exotic food? read: Edible bugs and how to cook them
11.- Chilaquiles
We do not need a special occasion to cook Chilaquiles, they are served every day in family homes, restaurants and hotels across Mexico. Either for breakfast or brunch, green or red Chilaquiles are a favorite dish on grand buffets served at the restaurants. They are served garnished with crumbled cheese, cilantro, onion and topped with cream. If you can, eat them accompanied with refried beans and avocado: they are good additions to the plate.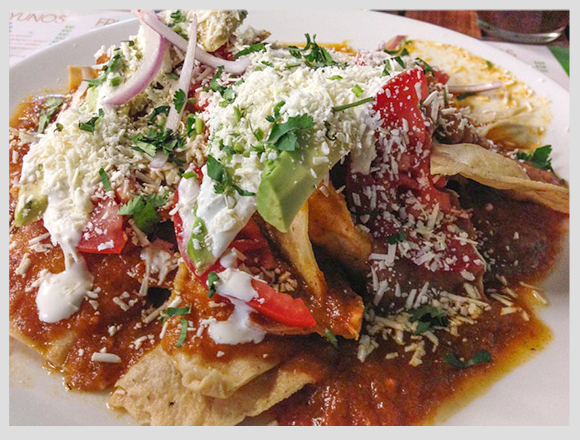 12.- Churros
Crisp and golden on the outside, soft and almost moist in the center, and covered in a gritty mix of sugar and cinnamon, churros are one of the Mexicans' favorite desserts. You can find churros being sold by street vendors in little paper bags, in baskets, or in stands that have a heating light to keep them warm.
The food here in Mexico is not just full of flavor, but it is full of stories too. We are not cooks by profession, but we tend to eat rather regularly. And we love a good tale as much as a good table.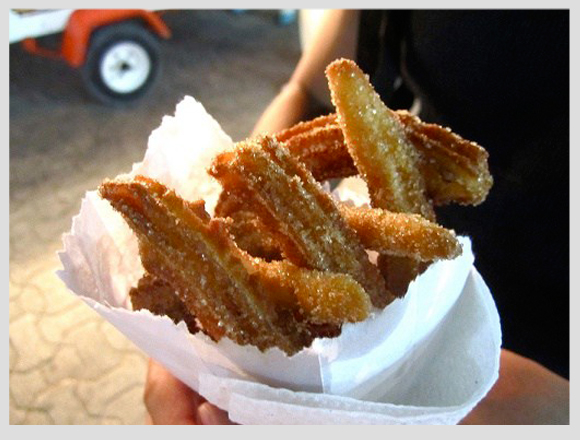 Tell us, have you tried any of these foods? if not, what dish would you add to this list?