Take advantage of your Spring Break
Five YOLO experiences you need to live
You probably have in mind what you are going to do when you arrive to Cancun, but let me tell you something xplorer, you need to live the YOLO experience this Spring Break with us. Are you ready to jump from a 16- feet high cliff? I bet you haven't considered it while you were packing your swimsuit and your ID; here we have the ultimate five YOLO experiences you need to live this Spring Break:
Zip-Line through Fire at Xplor Fuego
Fuel your adrenaline and dare to go on a 19mph zip-line ride 135 feet above the ground. The challenge?: You must do it at night, where the sound of the jungle and the star lights will be your best allies. Oh… and you have to go through a fire ring as you Zip-line.
Trepachanga at Xel-Ha
Walk over the river grasping with feet and hands from two loose ropes, and get ready, because it requires a lot of balance and coordination (even more if you have a few beers on). If you are not strong enough you will definitely fall to the water below.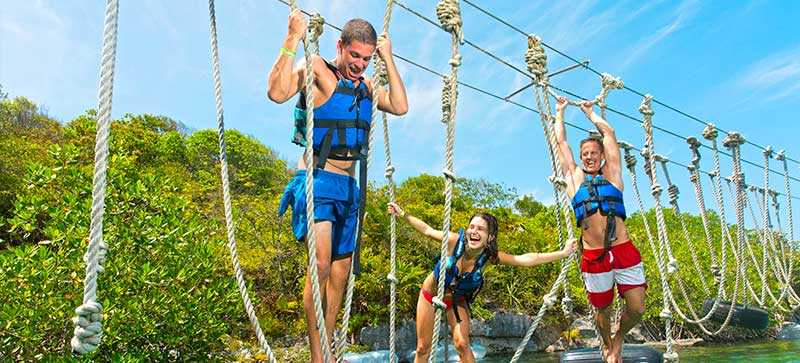 We recommend you: Why to travel during spring break season
Glam Picnic at Xenotes
Live a mystical experience surrounded by mayan natural pools in the Riviera Maya, drinking wine and beer while you enjoy a unique scenario in the middle of the jungle with your best friends.
Rappel through Xenote Lu'um.
Prepare to feel the thrill while rapelling down an open cenote: it connects you to the aquifer through tunnels and caves. Feel the flow of the water and let you energy flow in this activity.
Stone of Courage at Xel-Ha
And finally, only the bravest will dare to jump from the "Stone of Courage": feel the excitement when you reach the edge and look down the crystal clear water where you are about to splash.
Didn't know you could do all these YOLO things in Cancun?. Well, now you do, so go beyond your expectations, do different things, eat and drink new food, and don't forget to share with us your photos and adventures with the hashtag #YoloExperience so we can share with the world you did a good job.